'Aquaman' Box Office Tracking Rising Like The Tides As The Film Sets New Warner Bros. Record In China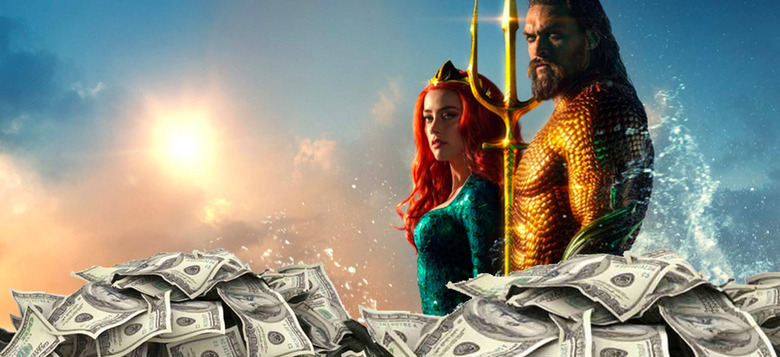 Looks like the Aquaman box office is going to be even better than expected. Early tracking was already strong, but the superhero film appears to be riding a wave of positive buzz all the way to the top. The early estimate had Aquaman looking at a possible $65 million opening weekend – but that number is much higher now. In addition to that, the James Wan movie is looking at a massive opening in China this weekend, resulting in a record breaking Middle Kingdom opening for Warner Bros.
When last we spoke about the wet and wild world of Aquaman's potential box office haul, estimates had the film's opening weekend pegged at $65 million. But much like a pod of dolphins leaping above the waves, that number has risen. New estimates have it around $80 million. Helping this bump is the film's record breaking opening in China this weekend.
Per Deadline, Aquaman has already grossed $24.6 million in China, which breaks a record for Warner Bros.:
Already, the flash estimate on 30,500 screens, 100% of which are 3D, is the highest opening day ever for a WB title and the best industry opening day ever for December. The film commanded 86% market share on Friday. Online sentiment is high with a Maoyan score of 9.5, Taopiaopaio at 9.4 and Douban at 8.4.
If all these trends continue, Aquaman could be a very big deal for Warner Bros. Studios depend on Chinese box office to put their films over the finish line, and China was the top market for previous Warner Bros. DC films Batman V Superman: Dawn of Justice, Wonder Woman and Justice League (Suicide Squad was not released in China; lucky them).
Warners pushed Aquaman heavily in China, bringing stars Jason Momoa and Amber Heard and director James Wan there to help promote the film with various online outlets. It looks like it paid off. On top of this, Aquaman will wash up in several other overseas markets before arriving in the U.S., including Russia, Brazil, Mexico and the UK.  The DC film universe could certainly use a win, so it's safe to assume folks at WB are breathing a sigh of relief over all of this. After many, many misfires, Aquaman may be what audiences worldwide have been waiting for.
Aquaman "reveals the origin story of half-human, half-Atlantean Arthur Curry and takes him on the journey of his lifetime—one that will not only force him to face who he really is, but to discover if he is worthy of who he was born to be...a king." The film opens in the U.S. on December 21, 2018.