'Miracle Workers' Trailer: Steve Buscemi Is God And Daniel Radcliffe Is An Angel In New TBS Series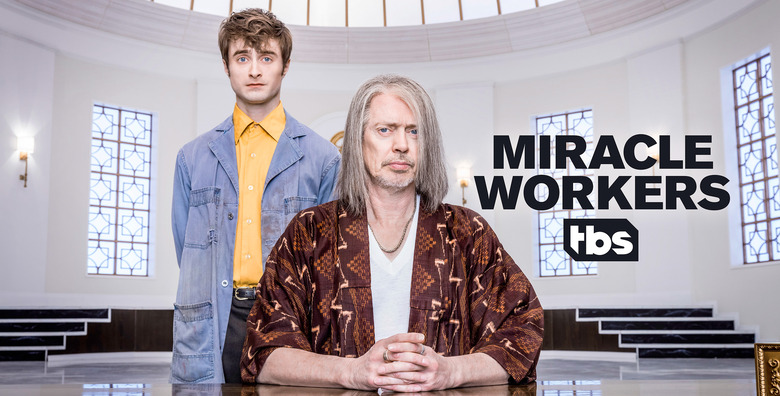 Though they might not be huge hits in the ratings department, TBS has curated some fantastic comedies with incredible talent in recent years. Along with their consistently great late night presence featuring Conan O'Brien and Samantha Bee, they've also had outstanding shows like Detour, Wrecked, Search Party, Angie Tribeca, and The Final Space. But their latest offering looks like it takes things to another level.
Miracle Workers is a new series on TBS, and it's certainly sacrilegious. The show focuses on Steve Buscemi as God, and he has a plan to destroy the Earth, but two angels from the offices of Heaven Inc. tried to convince him otherwise. It just so happens that one of those angels is Harry Potter franchise star Daniel Radcliffe. How is this a TBS series?!
Miracle Workers Trailer
This is just a brief teaser for the show, but it's quite the funny clip. God learns of a prayer asking for a terrible typhoon to stop, but he doesn't remember exactly what that is. He tries to clarify by asking if it's the one that goes "wishy-wishy" or not. I suppose it's hard to keep track of natural disasters when you're the creator everything.
The dry tone here is what makes these proceedings that much funnier. It feels like a British comedy series rather than one that comes from American writer Simon Rich, the creator of the quirky and underrated FX series Man Seeking Woman. Rich is also one of the youngest Saturday Night Live writers to grace the staff in the show's long history. And this looks like it plays to his strengths as a satirical humorist.
In addition to Steve Buscemi and Daniel Radcliffe, the TBS series also features breakout Blockers star Geraldine Viswanathan, Deadpool favorite Karan Soni, and Baywatch scene stealer Jon Bass. But I wouldn't be surprised if there are some exciting guest stars popping on the show as well, especially since it's a limited series. We'll find out early next year. Until then, here's the official synopsis for the series:
A comedy set in the offices of Heaven Inc. When God plans to destroy the Earth, two low-level angels must convince their boss to save humanity. They bet him they can pull off their most impossible miracle yet: help two humans fall in love.
Miracle Workers debuts on TBS on February 12, 2019.