'Spider-Man: Far From Home' Reveals Spidey's Two New Suits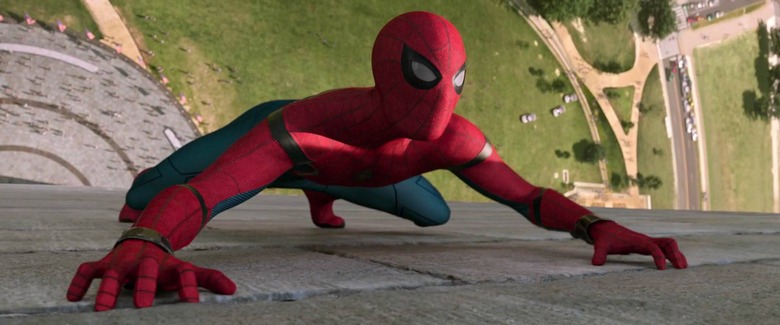 In case you haven't heard, there's a new Spider-Man: Far From Home trailer arriving this Saturday after it premieres at CCXP, the comic convention down in Sao Paulo, Brazil. But before we get a first look at the sequel to Spider-Man: Homecoming, the two new suits Spidey will be wearing in the movie have been revealed on the showfloor from CCXP. We've reported on both of them before, but this is the first time we've been able to get up close and personal with each of the suits and really see their details.
Check out the new Spider-Man Far From Home suits below.
This glimpse at the new Spider-Man Far From Home suits comes from Brazilian outlet Omelete:
Uniforme preto revelado! Novos trajes de Homem-Aranha: Longe de Casa são exibidos na CCXP; confira https://t.co/1mMlapKoT3 pic.twitter.com/8UxnwiiH5a

— omelete (@omelete) December 5, 2018
First of all, we get a better look at the more traditional Spider-Man suit with the updated color scheme that feels pulled directly from the original iteration of the webslinger designed by Steve Ditko. The blue accents have been replaced with black, but otherwise the suit is pretty much identical to the one given to Peter Parker by Tony Stark.
Meanwhile, that black suit is one that was previously only spotted in some spy photos taken while Spider-Man: Far From Home was still in production overseas. It's not an upgraded version of the Spider-Man suit we're familiar with. In fact, the suit looks relatively low tech with the exception of the goggles. It looks less like a Spider-Man suit and more like something a SWAT team member might wear on a rooftop stakeout. But it certainly takes cues from the stealth Spider-Man suit from the comics.
As of now, we're still relatively in the dark when it comes to the story in Spider-Man: Far From Home. But hopefully that will be cleared up when the first trailer arrives this weekend. It'll be interesting to see how the movie is marketed since Spider-Man is supposed to be dead after disintegrating in the aftermath of Thanos snapping his fingers and wiping out half of all living creatures. Will Marvel and Sony try to make it seem like this movie takes place before Avengers: Infinity War?
Along with Tom Holland returning as Peter Parker, the cast will also bring back Zendaya as MJ, Jacob Batalon as Ned, and Marisa Tomei as Aunt May. Jake Gyllenhaal has joined the cast as the new villain Mysterio, while Michael Keaton will also be back in some capacity as Adrian Toomes, aka The Vulture. Plus, Samuel L. Jackson and Cobie Smulders will reprise their roles as Nick Fury and Maria Hill.
Spider-Man: Far From Home is directed by Jon Watts, working from a script by Chris McKenna and Erik Sommers. The sequel arrives on July 5, 2019.