The Transgender Drama 'Girl' Is Earning Awards Season Buzz – Here's Why It's Infuriating Trans Critics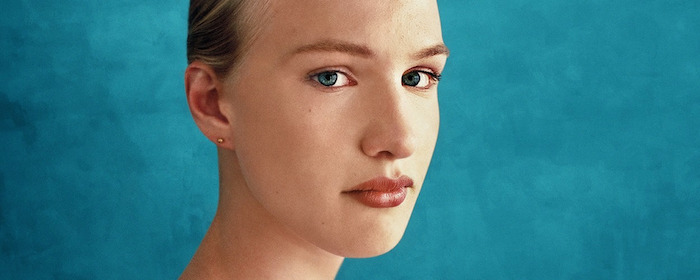 When Girl, a film about a transgender woman who aspires to be a ballerina, premiered this past May at the 2018 Cannes Film Festival, it did so to a great deal of debate in the transgender community.  For starters, the film was from a cisgender filmmaker who chose to cast another cisgender male actor in the role of a transgender female.  Shortly after the film premiered, Netflix acquired the film, which is directed by Belgian filmmaker Lukas Dhont.  And then the film started receiving a wave of festival awards, starting with the Camera d'Or for best first film and the Queer Palm (awarded to one LGBTQ film). Actor Victor Polster, the cisgender man playing a transgender character, took home the Best Actor Prize for Un Certain Regard.
As the film began its festival run, critics wrote positive reviews.  Some would tackle the cisgender casting while others completely ignored it.  But most notably, these reviews were being written by cisgender film critics.  A cisgender film critic isn't going to view the film like a transgender critic, one who can truly grapple with the choices being made here. In a perfect world, my being a transgender woman would not be the thing that defines me.  But this world isn't perfect and because I'm transgender, people turn to film critics such as me to hear what I have to say about movies like this.
And I have a lot to say about Girl, which is a dangerous movie.
Trans People as Props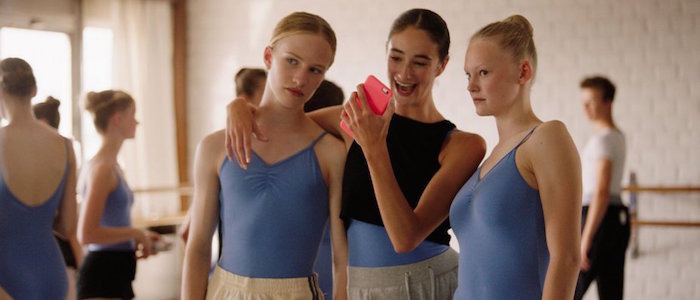 The basic controversy around Girl is summed up quite well by this article on Into by writer Mathew Rodriguez.  In essence, the film is another example of cisgender filmmakers making films at the expense of the transgender community and not understanding the damage they are doing. Rodriguez writes:
"Put simply: the film is bloody and obsessed with trans bodies in a way that reminds us that a cisgender person wrote and directed it. It's trans trauma porn and, as a cisgender person, I'm warning trans people not to watch it and cis people not to fall for it."
When I first heard about the ending of Girl following the Canes premiere, my blood started to boil.  A lot of it has to do with the ending — the rest of this paragraph is a huge spoiler, but it's important to understand why people are upset — which sees Lara use a pair of scissors to cut off her genitals.  Not only is it awful to see this being depicted on screen, but every trans person knows that if they ever expect to have gender-confirmation surgery, you don't do what Lara does in the movie. Quite frankly, it's an irresponsible depiction. 
This isn't the only problem. Although very few trans critics have had a chance to see the film (more on that in a moment), all of them have noted the same thing: the film features many, too many, shots of Lara's genitals.  It's not quick shots, but long shots that veer on them.  I don't know if Dhont had any transgender consultants on set while filming, because if he did, they would have warned him of the danger lying ahead. Dhont's obsession with genitalia reveals, whether intentional or not, a transphobic streak in the film.
This is one of the core problems that come with cisgender filmmakers making a film about transgender subjects.  They aren't seeing a film through the lens of a transgender filmmaker.  A transgender filmmaker wouldn't obsess about genitalia in a film in which a trans person is the lead.  Trans people need to be involved in all aspects of a production.  We need to be on set to say "Hey, maybe you could do this instead of that?"
But because Polster is cisgender and not trans, he's not the person who would be speaking up to say that something is wrong.  He's just showing up to do a job and I get that.  That doesn't mean he was the right person for the job, because he's clearly not.  Any cisgender person claiming to be a trans ally would definitely not take the role of a trans actor.  Because Polster isn't trans, he probably wasn't thinking along the lines of how dangerous the film is. 

I'm reminded of an interview that I conducted with actress Jen Richards in 2017.  The actress was promoting Easy Living when I asked her advice regarding writing a screenplay with a transgender woman in a leading role.  Richards' response:
"Make sure the character would be just as compelling if the audience never knew they were trans. If being trans is the most interesting thing about a character, or the only reason they're in a story, then they're not a person, but a prop. And I think the way to prevent this from even coming up is to have trans people around. Get to know us, listen to us."
This is smart advice from Richards.  Being transgender should not be something that comes off as a prop.  And Girl has made the wrong choice.  Lara is a ballerina and there should be a stronger focus on how that drives her rather than this need to harm her body because blockers aren't helping as she starts hormones.  Because of her age, Lara is on puberty blockers to prevent testosterone from damaging her body.  When she is finally allowed to start on hormone replacement therapy, the estrogen doesn't work as quickly as she wants.  If Dhont had spoken to any medical professionals, he would know this!  Dhont would know that transitioning is a marathon, not a sprint.  No transition is the same but there are a lot of body changes that happen very slowly. The film doesn't even bother to have this conversation on screen, which is irresponsible at best.
Here's Tre'vell Anderson writing in Out Magazine: 
"What's wrong with Girl is what's wrong with most projects that claim to represent the experiences of trans people with no substantive participation of trans voices. It's a missed opportunity to properly contextualize the experiences of trans folks coming into ourselves as more than purely physical and medical."
Another take comes from Oliver Whitney, writing in The Hollywood Reporter:
"Lara's genitals, shown in multiple full-frontal nude shots of Polster's penis, have a bigger presence throughout Girl and are central to more plot points than the character herself. Lara painfully studies her naked body in the mirror in five scenes — was one not enough? — and in four unnecessarily gory moments, she rips tape from her genitals after tucking her genitals during ballet. While showing tucking onscreen, a reality for many trans women, can be important to represent, Dhont turns it into a bloody horror show. What could have been a thoughtful exploration of a difficult part of a trans girl's daily life instead uses her body as a site of trauma, inviting the audience to react with disgust. Much like the cisgender characters who continually silence Lara and tell her how to feel, the director shows no interest in understanding her internal struggles. Lara is merely a physical specimen to gawk at, and the more her body is pitted against her — both with gender and ballet — the more the film relishes in capturing her torment."
The real-life woman at the heart of the story of Girl didn't want to be filmed, so a documentary was quickly ruled out. So instead, Dhont cast a cisgender man. While it's understandable that Dhont wanted to tell this dancer's story, did he ever stop to think about the harmful consequences of casting a cisgender actor?  Did he ever stop and think about the fact that he's reinforcing awful stereotypes about the trans community?  The key one being that by casting cisgender actors — let alone focusing so much on the genitalia — he's reinforcing the negative stereotype that transgender women are men.
Awards Season, AKA Conversation? What Conversation?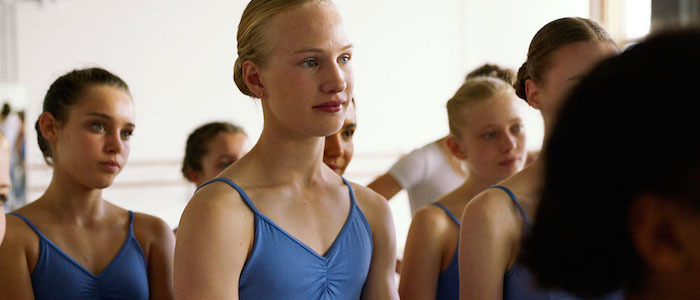 Even though film critics like me are able to get into For Your Consideration screenings for many films, these screenings are largely in cities like New York, Los Angeles, San Francisco, and London. I'm based in Chicago and going into early December, it seems highly doubtful that I'll get an awards screener for Girl by the end of the year. 
Girl is not the only foreign film that Netflix is campaigning for awards (the streaming giant is also heavily pushing Roma), but Girl is not included in their mailings to critics.  I say this even when at least one of the critics groups I'm in goes by the same rules as the Oscars for Best Foreign Language Film.  By screening the film in select cities and not sending out awards screeners, this speaks to the lack of a level playing field.  Many of the writers and critics who should have something to say about this movie are being denied the opportunity.
Meanwhile, the Los Angeles Online Film Critics Society nominated Girl for one of its five best picture slots.  To say that I'm incredibly disappointed at this would be an understatement.   How could this film even get nominated when trans voices have been speaking out since the premiere in May? What does it take for trans voices to be heard in the film community? (After this article was submitted, Girl received a Golden Globes nomination.)
In several interviews, Dhont says that he wants to have a conversation with the transgender community.  How is he supposed to have that conversation when so many trans critics won't even have a chance to see the film before awards consideration?  How is he supposed to have that conversation when Netflix isn't releasing the film until January? This will be after the Foreign Language Film Award Committee narrows the 87 Oscar submissions to six films ,with another three films voted by the Academy's Foreign Language Film Award Executive Committee.  Going off of the calendar for the previous Oscars, the short-list will be announced in mid-December.  Those Academy members eligible to vote in Nominations voting will be required to view the short-listed films in mid-January before submitting their ballot.  Again, this is still taking place before Netflix releases Girl for all to see and before so many voices can chime in on why this film is a big, big problem. 
If this film is nominated at the Oscars, it will be a slap in the face to the transgender community.  This past year, I was ecstatic when A Fantastic Woman was nominated and even happier that the film won Best Foreign Language Film.  It was the first time that I can recall a film with a trans woman playing a trans woman getting awards love left and right.  Nominating a film such as Girl would be seen as more than two steps back.  It would take the Academy back to the days of saying that transgender roles must be played by cisgender actors for awards consideration.
In a year in which Hollywood is finally beginning to take the transgender community seriously when we speak up, it's time that the Academy takes what we have to say to heart.  By saying no to a film like Girl, the rest of the world may finally get the message that the days of casting cisgender actors in transgender roles are over.