'Without Remorse' Recruits 'Sicario 2' Filmmaker To Direct Michael B. Jordan As Tom Clancy's John Clark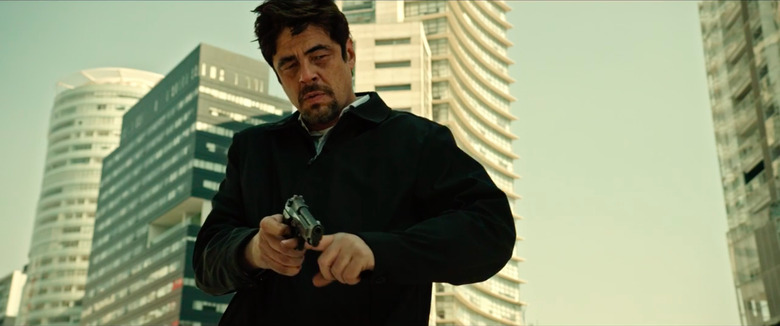 We're living in the middle of the Stephen King adaptation Renaissance and Hulu is trying to make a John Grisham TV universe happen, so why not more Tom Clancy? Your dad's favorite author passed away in 2013, but his work has lived on as other writers dabble in his universe and video games continue to plaster his name on the box. And then there's Jack Ryan, the buzzy Amazon series starring John Krasinksi as Clancy's most famous hero.
But what about Clancy's second most famous hero? A few months ago, we learned that the great Michael B. Jordan was going to star in film adaptations of the novels Without Remorse and Rainbow Six, playing the hardened soldier John Clark. Now, we know who is going to direct that first movie.
According to Variety, Stefano Sollima is being courted by Paramount to direct Without Remorse, the first of the two planned John Clark movies. Sollima was a fairly prolific TV director before he stepped in to direct Sicario: Day of the Soldado, which hit theaters earlier this year. That film wasn't as widely acclaimed as its predecessor, but it was a financial success and proved that he has a capable eye for action. He is also attached to direct the film adaptation of the Call of Duty video game franchise, but it sounds like Without Remorse will get rolling first.
Paramount wants to get cameras rolling on Without Remorse by 2019, which would make this Jordan's immediate follow-up to Creed II. And quite frankly, moving quickly sure seems smart: Jordan is hotter than ever after his second outing as Adonis Creed and his head-turning work in Black Panther. Plus, Jordan is just thrilling casting – John Clark has been typically portrayed as a white guy, but Jordan has a knack for stealing "white" roles. (Clark was previously played by Willem Dafoe in Clear and Present Danger and Liev Schreiber in The Sum of All Fears.)
While John Clark isn't as famous as Jack Ryan, he played a major role in many Clancy novels. While Ryan was always the white collar analyst in over his head, Clark was the solider on the ground, the experienced killer who was unafraid to get his hands dirty. Without Remorse is actually an origin story for the character, tracking his early career and how he grew into the hardened agent we meet in the other books. If they get around to making Rainbow Six, Jordan's Clark will form the ultimate terrorist-hunting group and then, well, kill a whole bunch of terrorists (it was my favorite Clancy book in the day, when I read so much Clancy that I become an Honorary Dad).
Anyway, Sollima may not be the most inspired or exciting choice, but he's a choice that makes sense. Sicario 2 proves he can do action. His television experience proves he can work within an established universe overseen by producers (Akiva Goldsman will be overseeing the entire franchise, which is a questionable decision and one worth discussing on a later date). He's...totally fine? Yeah. Sure. And maybe that's just perfect for a Tom Clancy movie.
No release date has been set for Without Remorse yet.