The 76th Annual Golden Globes Will Be Hosted By Andy Samberg And Sandra Oh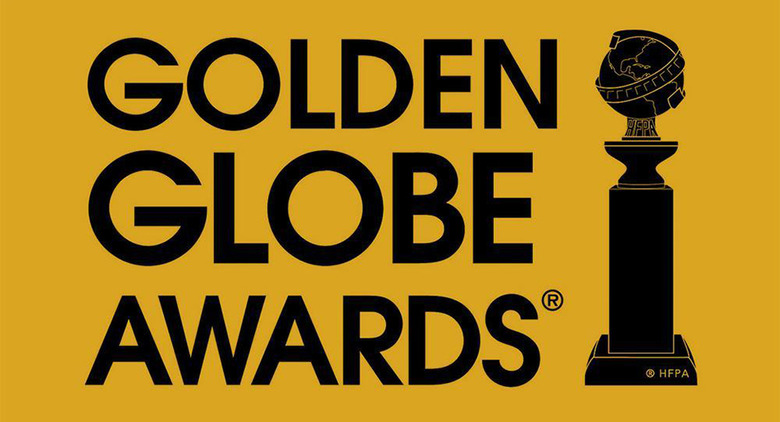 The not-so-secret secret is that no one wants to host Hollywood's award shows anymore. Comedians, talk show hosts and actors stand to gain nothing and lose a whole bunch by taking the gig. And yet, the show must go on. Yesterday, Kevin Hart stepped to the plate to hose the next Oscars ceremony. Now, we know who will host the 76th Annual Golden Globe Awards: Andy Samberg and Sandra Oh.
Yes. That pair. For some reason.
Look, I'm not sure why Samberg and Oh, two immensely talented folks that we love quite dearly here at /Film HQ, are being teamed up for this gig. Maybe the official joint-statement from Paul Telegdy and George Cheeks, Co-Chairmen of NBC Entertainment, will clarify? Let's see:
"Sandra and Andy are the perfect choices to host this world-class event. They bring wit, charm and style to a room filled with the very best of film and television. It's sure to be another unforgettable fun-filled night."
Hmm. No. That's not helpful or useful at all! Honestly, the only direct connection these two have is that they have both won Golden Globes in the past. Samberg took home two statuettes for his work on Brooklyn Nine-Nine and Oh took home one for her work on Grey's Anatomy. They're also both really funny and charming, but there's no obvious reason why they should share the stage, especially since Oh will very likely receive a nomination for work in Killing Eve. This is like that time James Franco and Anne Hathway hosted the Oscars for some reason! Remember that? Or have you succeeded in forgetting?
The Golden Globes are a less demanding job than the Oscars – no one in the industry really takes them seriously and the attitude in the room does a fine job of reflecting that. They're a looser affair and the jokes tend to be bawdier. I imagine Oh and Samberg will have a ton of room to goof off and hopefully they'll have the chemistry to make that worth watching.
The 76th Annual Golden Globe Awards will be held on January 6, 2019. The nominees will be announced tomorrow morning, so stop by then to see who's going to be renting a tux or dress in a few weeks.