'Christmas Chronicles' Watched By 20 Million People, Which Netflix (Incorrectly) Compares To A $200 Million Opening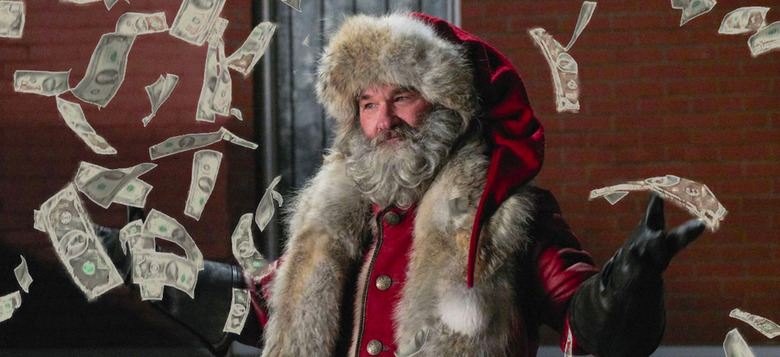 Lots of people wanted to watch hot zaddy Santa Kurt Russell in The Christmas Chronicles. According to Netflix, their holiday movie was viewed by 20 million people in one week. That's a pretty impressive number. How impressive? Well, according to Netflix, that's the equivalent of a $200 million opening week. Netflix might want to check their math there, though, because that's not accurate at all.  
Ho, ho, whoa. A sleigh-load of people watched The Christmas Chronicles. Netflix is usually cagey with its viewership numbers, but every now and then, it will trot out some figures and pat itself on the back. According to Netflix Chief Content Officer Ted Sarandos, The Christmas Chronicles scored 20 million viewers in its first week on the streaming service.
"If every one of those was a movie ticket purchase, that's a $200 million opening week," Sarandos said (via Business Insider). "Even movies that go on to $1 billion don't typically do that in the first week."
Here's the thing: that's bullshit. It's impossible to accurately judge the equivalent of an opening weekend at the box office would be based on Netflix's model, because Netflix gives viewers an option theaters don't: the option to stay the hell home. Sure, 20 million people may have watched The Christmas Chronicles its opening week – but would those same 20 million get up off the couch, grab a shower, get dressed, bundle the kids into the car, drive to the movie theater, drop over 200 dollars on tickets, popcorn, soda and more, sit through 35 minutes of previews, and then sit through the feature film? It's impossible to know for sure...but I doubt it.
Don't get me wrong: it's still impressive that so many people were thirsty to see Kurt Russell in a Santa suit that they streamed The Christmas Chronicles, but Sarandos' math here is flawed. But that won't stop the Netflix boss from patting himself, and his company, on the back. "Even in [Kurt Russell's] successful career, he's never had that many people see one of his movies in the first week ever," Sarandos said. "That's a testimony to what we can bring to the market for storytellers today that we couldn't have ten years ago."
In The Christmas Chronicles, Russell plays a silver fox Santa who gets stranded on earth when two bratty wiener kids accidentally make him crash his sleigh. In the process, Santa loses his hat, and that's bad, because Santa's magic resides entirely in his hat (since when??). Now, Santa and these snotty children have to save Christmas. Whatever.
With viewership numbers so high, it's probably inevitable that Netflix will order a Christmas Chronicles sequel for next holiday season. See you next year, sexy Santa!