'Once Upon A Deadpool' Teaser: Julian Dennison Touts Over 20 Minutes Of New Footage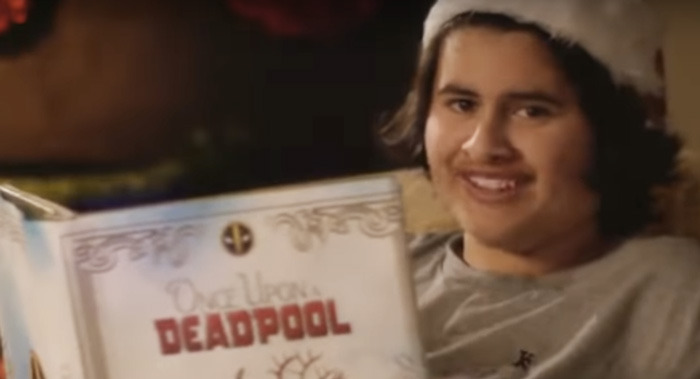 This Christmas, fans of Deadpool are getting an interesting new gift in the form of a PG-13 cut of Deadpool 2, the R-rated comic book sequel that has become such a success largely because 20th Century Fox allowed Ryan Reynolds to give the Merc with a Mouth his due diligence. But the studio loves raking in more cash, and if they can get families into theaters to give Deadpool a shot with a more tame cut of the comic book blockbuster, why not?
But what about fans who have already seen Deadpool 2? Is this going to be worth it for them to buy another ticket to a movie that has removed the profanity and blood, key selling points of the original version? A new teaser for the re-release, titled Once Upon a Deadpool, provides some insight into how much new material fans will get. Deadpool 2 co-star Julian Dennison recently appeared in an international teaser for the movie, and he reveals just how much extra footage will be in the recut.
As Julian Dennison says in this storybook teaser geared towards New Zealand audiences, Once Upon a Deadpool has more than 20 minutes of new footage. However, as we've heard before, any new scenes that were conceived by Ryan Reynolds and franchise writers Rhett Reese and Paul Wernick only involved the framing device that features Deadpool reading his own story to a kidnapped adult Fred Savage, in a nod to his childhood role in The Princess Bride. Does that mean there are around 20 minutes of scenes featuring Deadpool and Fred Savage? Not quite.
If you watch the full trailer for Once Upon a Deadpool, you'll see that there's a scene where the Merc with a Mouth addresses an old couple sitting on a bench and makes a reference to the sad opening sequence in Up. That's a scene not in the theatrical cut of Deadpool 2, but it is a deleted scene on the Blu-ray release. So it's likely that some of the deleted scenes from Deadpool 2 will make their way back into this version of the movie.
Frankly, I'm most interested to hear the different variations on the more profane and inappropriate lines that otherwise wouldn't be allowed in a PG-13 movie. There's a part of me that hopes they really lean into it and make some obviously terrible substitutions along the lines of the awful line dubs heard in the television cuts of R-rated movies. That could make for yet another entertaining meta reference for Deadpool fans to enjoy.
Don't forget, for every ticket sold, $1 will go to the charity Fudge Cancer – previously known as Fuck Cancer, who have graciously changed their name to be more PG-13 friendly for the 12 days of Once Upon A Deadpool's release, beginning on December 12, 2018.