'The Mandalorian' Adds Nick Nolte To Grumble And Scowl His Way Through The 'Star Wars' Universe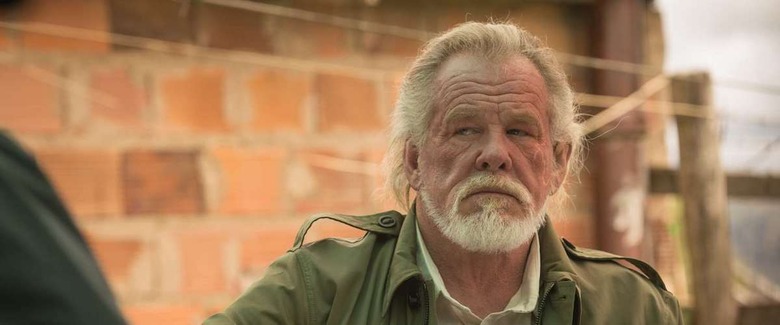 The Star Wars series has always been a home for wizened older actors with a talent for lending gravitas to sometimes silly situations. Just to name a few: Alec Guinness, Ian McDiarmid, and Max Von Sydow. Now, that tradition will continue on the small screen, as three-time Oscar nominee Nick Nolte has joined the cast of The Mandalorian, the first live-action Star Wars TV series.
Beyond the fact that Nolte has joined the cast (via The Hollywood Reporter), nothing is known about his role. They also note that it's unclear "how much costuming and visual effects each actor will get." However, Nolte is a legend and a boon to any project, with credits that include The Thin Red Line, 48 Hrs., Warrior, Affliction, and The Prince of Tides.
Nolte can undoubtedly play a type – he was grizzled and grumbly and evoked an aura of raw, damaged nerve even when he was a young man. At 77, he's only grown more grizzly, more grumbly, and more dangerous on screen, with his age supplying a fragility that he has weaponized to humanize even the most outrageous character. In other words, it's easy to imagine him playing a veteran warrior or soldier, someone who has been fighting in these star wars for a long time and has seen a lot.
And that would certainly make sense in the context of the show's plot. We know that Game of Thrones and Narcos star Pedro Pascal will headline the series, playing alone gunslinger who travels the dustier and more dangerous edges of the Empire, wearing that super-cool Mandalorian armor (you know, the Boba Fett armor). Here's that plot synopsis again:
After the stories of Jango and Boba Fett, another warrior emerges in the Star Warsuniverse. The Mandalorian is set after the fall of the Empire and before the emergence of the First Order. We follow the travails of a lone gunfighter in the outer reaches of the galaxy far from the authority of the New Republic.
Can you imagine Nolte playing a war-weary soldier, either a rogue Mandalorian or even an agent of the Empire? Executive producer Jon Favreau has always had a strong eye for casting, and this looks like another winner in that department.
It's not clear how large Nolte's role will be or if he will be a regular character or a guest star. It's not even clear if he'll be a human or an alien – THR reports that the series' technologically advanced production has allowed for roles to be cast later than usual. While I would love to see Nolte's craggly mug on screen, I can also imagine his voice croaking out from a nasty alien creature. In any case, we all win.
Episodes of The Mandalorian will be directed by Dave Filoni, Taika Waititi, Bryce Dallas Howard, Rick Famuyiwa and Deborah Chow. The series is expected to debut in 2019. In addition to Pascal, the rumored cast includes everyone from former MMA fighter Gina Carano to legendary filmmaker Werner Herzog.