'Preacher' Season 4 Given AMC's Blessing, Praise The Lord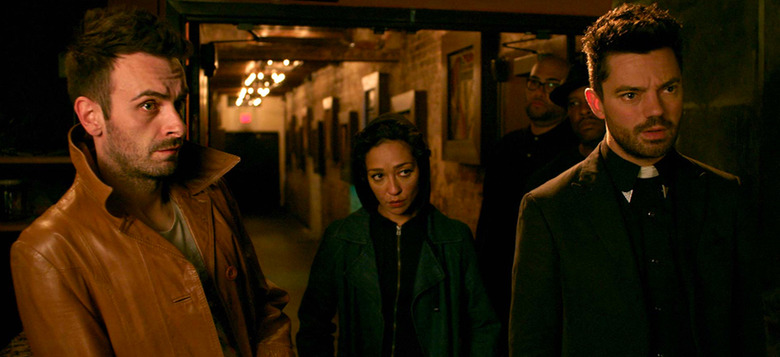 Preacher, the AMC series based on the comic series from Garth Ennis and Steve Dillon, has just been blessed with a fourth season. Dominic Cooper, Ruth Negga and Joseph Gilgun will all return for yet another romp across America to find God, with biblical forces in tow. While Preacher is a story about America, production will move to Australia for the next season. More on Preacher season 4 below.
The journey of Preacher will continue. AMC just gave the go-ahead to season 4 of the show developed by Sam Catlin, Evan Goldberg, and Seth Rogen. "Preacher is a show unlike any other on television. A passionate base of fans found their way to Jesse, Tulip and Cassidy and have followed along with their adventures, at times indescribable adventures, for three seasons," said David Madden, president of programming for AMC Networks (via TV Line). "We are thankful to our partners at Sony and to Seth, Evan and Sam for everything they have brought to this series, which we are pleased to renew for a fourth season. Like the superfans of Preacher, we can't wait to see where this journey leads next."
Preacher stars Dominic Cooper as Jesse Custer, a small town preacher who is suddenly blessed (or cursed) with a powerful supernatural force. Ruth Negga is Tulip, an assassin and Jesse's girlfriend. Joseph Gilgun plays Cassidy, an Irish vampire. Specific season 4 story details aren't available yet, but the season will likely involve Jesse and Tulip trying to save Cassidy from the secret organization known as The Grail.
The series is based on the comic series from writer Garth Ennis and artist Steve Dillion. Preacher ran from 1995–2000, and received acclaim. There were several attempts over the years to adapt the series. In 2001, a film adaptation was greenlit, with James Marsden set to star. This film idea was abandoned, and HBO then attempted to turn the comic into a TV series. This, too, fell through, and another film was announced in 2008, with  Sam Mendes set to direct. Like everything else before it, this never came to pass, and it seemed like Preacher was unadaptable. That changed in 2013, when Seth Rogen and Evan Goldberg developed a series pilot with Sam Catlin. AMC eventually picked the series up, and here we are.
I watched the half of the first season of Preacher, and then called it quits. While the show was enjoyable, and Ruth Negga was fantastic as Tulip, the series strayed too far from the comic for my tastes. I was a major fan of the comic, and to change so much from page to screen seemed pointless to me. But to those who still enjoy the series, this is no doubt good news. Production on Preacher season 4 will begin in 2019.