Jude Law's 'Captain Marvel' Character May Have Been Revealed – By A Toy, Of Course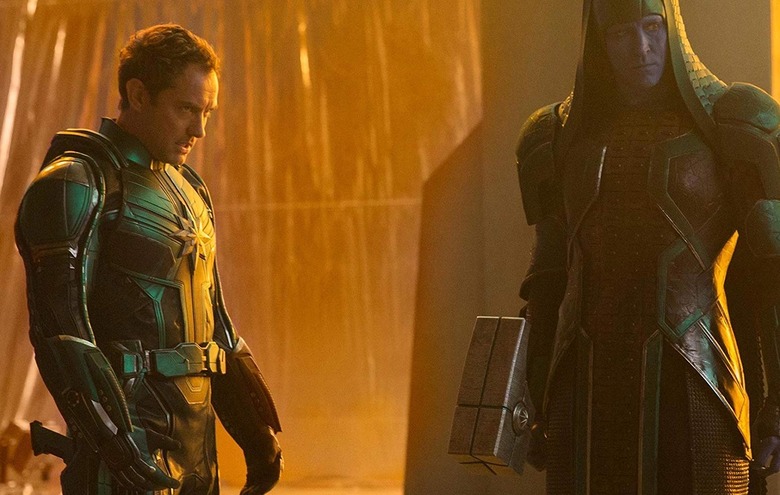 When Jude Law was first cast in Captain Marvel, fans immediately assumed that the chiseled-jawed actor was playing the heroic Mar-Vell — the first character in the Marvel Comics to hold the title of Captain Marvel. But as marketing for Captain Marvel began to roll out, Law's mystery role was still suspiciously kept under wraps.
Now a leaked image of toy merchandise for the film has finally revealed just who Jude Law is playing in Captain Marvel. But beware, it's not who you expect and could spell huge potential spoilers for the film.
A leaked image from Funko's upcoming Captain Marvel Pop! series reveals that Jude Law's Captain Marvel character is none other than Yon-Rogg, the Kree military commander and one of Carol Danvers' major foes.
The image of the Captain Marvel Funko Pop! line-up was posted to Reddit and found by CBR.com, which spotted the major character reveal. "The Funko toy lineup clearly shows two important members of the Kree armada: Brie Larson's Carol Danvers and what looks to be Law's Yon-Rogg, as he's the only other prominent Starforce member in the film," CBR.com writes.
However, in Funko's official press release for the Captain Marvel Pop! line-up, Law's character is only listed as "Kree military officer Star Commander," keeping his description as a Kree military officer, but obscuring his official name with the redundant "Star Commander" title. Coming out after the leak made its way through the interwebs, this may be an attempt by Funko to hide Law's identity. But it's not Funko's fault — this is not the first time that a toy line has accidentally spoiled a superhero movie.
So who is Yon-Rogg? Introduced in the Marvel Comics in 1967, Yon-Rogg is a major Captain Marvel villain who hails from the Kree alien species, the same race as Ronan the Accuser from Guardians of the Galaxy. This would explain the Captain Marvel promotional image that shows Law's character standing alongside Lee Pace's villain. In the comics Yon-Rogg harbored a deep hatred towards Mar-Vell, but is a frequent villain specifically for Carol Danvers, having been indirectly responsible for how she gained her powers.
That may explain why the identity of Law's character has been kept so tightly under wraps. It points to him becoming the potential Big Bad to Brie Larson's Captain Marvel, rather than — or perhaps in legion with — Ben Mendelsohn's Skrull alien. Or perhaps he begins as an ally before ultimately betraying her. We won't know until the film, directed by Ryan Fleck and Anna Boden, hits theaters in March.
Here's the official synopsis for Captain Marvel:
"The story follows Carol Danvers as she becomes one of the universe's most powerful heroes when Earth is caught in the middle of a galactic war between two alien races.  Set in the 1990s, "Captain Marvel" is an all-new adventure from a previously unseen period in the history of the Marvel Cinematic Universe."
Captain Marvel opens in theaters on March 8, 2019.