'Daredevil' Cancelled By Netflix, But Might End Up On Disney+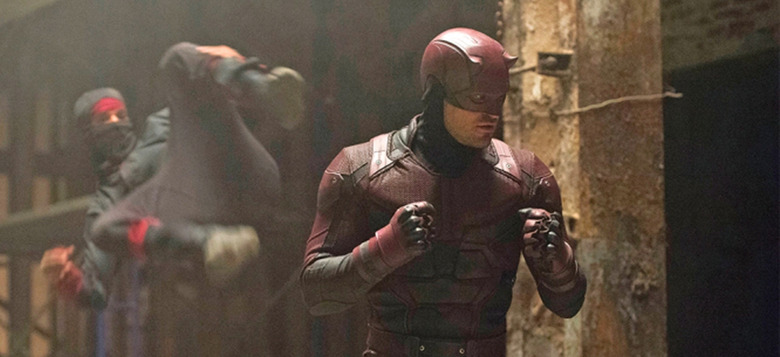 The Marvel Netflix characters may have survived Thanos' snap, but their days on the streaming service are all but over. Daredevil has been cancelled by Netflix after three seasons, making it the latest Marvel Netflix show to get the boot. Over the last few months, Netflix has pulled the plug on Iron Fist and Luke Cage, making Jessica Jones and The Punisher the only Marvel shows left. But Daredevil might return in another place, and another time. Like Disney's streaming service Disney+, for instance.
Deadline has learned that Netflix has cancelled Daredevil. The recently released third season of the superhero series will be its last on the streaming service. Netflix released the following statement regarding the cancellation:
"Marvel's Daredevil will not return for a fourth season on Netflix. We are tremendously proud of the show's last and final season and although it's painful for the fans, we feel it best to close this chapter on a high note....We're thankful to our partners at Marvel, showrunner Erik Oleson, the show's writers, stellar crew and incredible cast including Charlie Cox as Daredevil himself, and we're grateful to the fans who have supported the show over the years."
But there's some hope for the Man Without Fear. Netflix also added: "While the series on Netflix has ended, the three existing seasons will remain on the service for years to come, while the Daredevil character will live on in future projects for Marvel." Those "future projects" are more than likely involved with Disney's upcoming streaming service, Disney+. The House of Mouse has already announced Marvel shows focused on Loki and Vision, and it seems a good bet that Daredevil, and even some of the other former Marvel Netflix shows, will end up there as well.
Daredevil launched on Netflix in 2015, becoming the first Marvel show on the streaming service. It was darker, grittier and far more violent than the Marvel Cinematic Universe movies, and set the tone for future Marvel Netflix shows to come. Charlie Cox played Matt Murdock, a blind lawyer with heightened senses who moonlights as a vigilante in Hell's Kitchen. Other cast members included Deborah Ann Woll, Elden Henson, Rosario Dawson, and Vincent D'Onofrio. The first season was enjoyable, and the second was even better, introducing FranK Castle, aka The Punisher, into the mix. The recently released season 3 was a mixed bag – it had its moments, but it suffered from poor pacing – a common problem with many Netflix shows.
While new seasons of the two remaining Marvel Netflix shows Jessica Jones and The Punisher are in the works, I wouldn't be surprised if both series get the axe soon after, to perhaps head over to Disney+.