Tom Hanks May Play Geppetto In Disney's Live-Action 'Pinocchio' Remake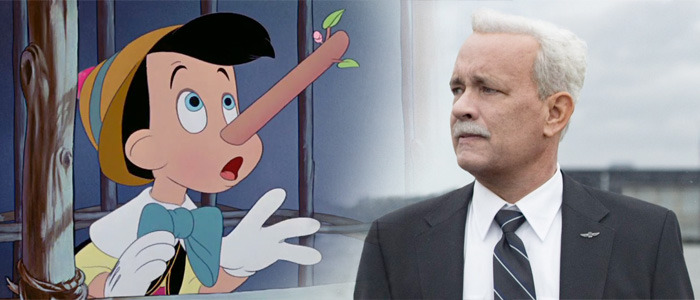 Hot on the heels of the teaser trailer for The Lion King remake raking in millions of views over Thanksgiving weekend, Disney is plotting a big move to make another upcoming remake quite the anticipated affair.
Pinocchio is a classic tale brought to life in animated form by Disney in 1940, and it's getting remade by Paddington director Paul King. It's the story of a master woodcarver named Geppetto who longs for a son of his own. His dream suddenly comes true when he makes a wish upon a star for a wooden boy puppet he crafted to become a real boy. While the titular role is yet to be cast, a new report says Tom Hanks is in early talks to play Pinocchio's surrogate father Geppetto.Collider has the exclusive scoop on Tom Hanks playing Geppetto in the new Pinocchio, which doesn't currently have a release date yet. The project has been in development since spring of 2015, and it even went through one iteration in which Skyfall director Sam Mendes was slated to direct. But he fell away from the project and Paul King was hired earlier this year.Rogue One: A Star Wars Story writer Chris Weitz is slated to produce the film, which previously had a script written by Jack Thorne (Harry Potter and the Cursed Child). However, it's not clear where the recent draft is coming from. There's a chance that Simon Farnaby might be taking a crack at the script after working on the scripts for both Paddington movies with Paul King.
Tom Hanks is an interesting choice to play Geppetto, mostly because in the classic story of Pinocchio, the character is an elderly Italian man. But this is Disney we're talking about, so they might be taking some liberties with the story. Then again, maybe Tom Hanks will put on an Italian accent for this film. After all, he previously played a man from a fictional Eastern European country in The Terminal and he put on quite a thick accent there.
This marks yet another iconic role for Hanks to play in recent years. Previously, he played Walt Disney himself in Saving Mr. Banks, and he's playing Fred Rogers in an upcoming film about the friendship between the children's television personality and a cynical reporter.
As of now, Pinocchio is slated to begin production next summer, so we can probably expect it to arrive late in 2020 or early in 2021. It remains to be seen who will play the title puppet-turned-real-boy, but Jacob Tremblay might be a good choice. Stay tuned to see how the Pinocchio remake cast fills out.