'Stan & Ollie' Featurette: John C. Reilly And Steve Coogan Bring Hollywood's Famous Comedic Duo To Life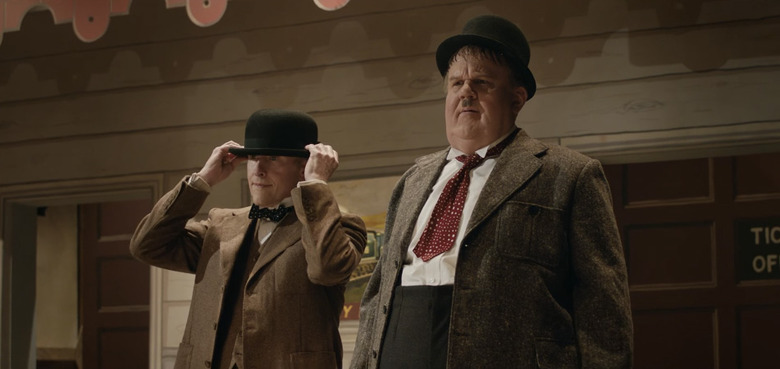 Laurel & Hardy were one of the most famous duos of all time. While their antics on-screen were light, fun and hilarious, behind the scenes, Stan Laurel and Oliver Hardy had some serious drama between them as they came to terms with the end of their careers. That's what the new biopic Stan & Ollie focuses on, following the duo (played by Steve Coogan and John C. Reilly respectively) as they embark on a variety show tour in the United Kingdom in 1953, and a new featurette takes a closer look at this touching story.
Watch the Stan and Ollie featurette below.
Stan & Ollie follows the titular duo 16 years after the height of their fame at a time when they haven't made a decent motion picture in years. So the two decided to embark on a nostalgic tour in order to make some money. What they weren't expecting was some ghosts from their past to come to the surface and threaten their friendship.
In order to make the partnership between Laurel & Hardy feel just like it did to the audiences who loved them, Steve Coogan and John C. Reilly spend a lot of time together in order to become good friends themselves. But that's not all that was required to turn these two into Stan and Ollie.
John C. Reilly spent three hours in make-up in order to have facial prosthetics applied to his face to play the heavyset comedian Oliver Hardy. Plus, he had to wear a fat suit under his wardrobe. Meanwhile, Steve Coogan had it a little easier with fewer facial prosthetics needed to become Stan Laurel, but it certainly helps him disappear into the role. Plus, it helps that these two were the first choices to play these parts, so director Jon S. Baird got exactly what he was looking for from them.
This looks like it could be quite a crowd pleasing awards contender when it's released next month. It's a biopic that doesn't follow the traditional mold of showbiz movies, and with a couple promising performances bringing this dynamic duo to life, I'm fully on board. If you haven't seen the trailer for Stan & Ollie, watch the most recent trailer here.
Laurel & Hardy, one of the world's great comedy teams, set out on a variety hall tour of Britain in 1953. Diminished by age and with their golden era as the kings of Hollywood comedy now behind them, they face an uncertain future. As the charm and beauty of their performances shines through, they re-connect with their adoring fans. The tour becomes a hit, but Stan & Ollie can't quite shake the specter of Laurel and Hardy's past; the long-buried ghosts, coupled with Oliver's failing health, start to threaten their precious partnership. A portrait of the most tender and poignant of creative marriages, they are aware that they may be approaching their swan song, trying to rediscover just how much they mean to each other.
Stan & Ollie opens December 28, 2018.