Netflix Is Turning The Man Who Invented The Guillotine Into An 18th Century Detective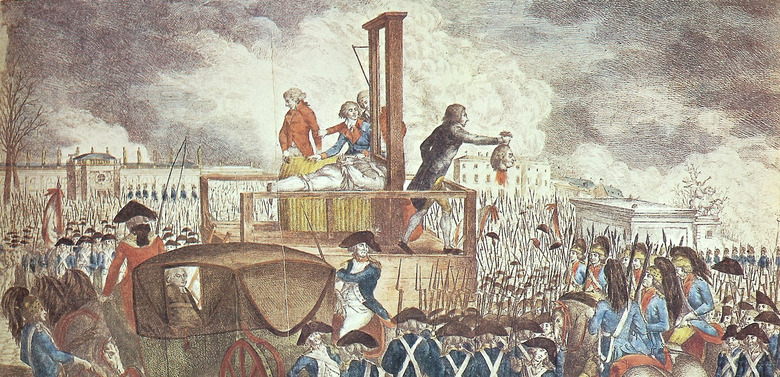 Netflix is making so many shows and movies that it's hard to keep track of them all, and a new series has just been announced that feels like one that will get lost in the shuffle unless you have a fondness for the French Revolution.
A French mystery thriller series has been ordered by Netflix from creator Aurélien Molas (Red Creek) that will focus on Joseph Guillotin, the inventor of the famous guillotine execution device, before his name became synonymous with decapitation. Instead, Guillotin is investigating a series of mysterious murders and he discovers a deadly virus. Yeah, the French Revolution was a wild time.
Here's the official synopsis for the mystery thriller series set during the French Revolution:
"1787, France. While investigating a series of mysterious murders, Joseph Guillotin – the future inventor of the world famous 'Guillotine' – uncovers an unknown virus: the Blue Blood. The disease, quickly spreads amongst the French aristocracy, driving them to murder ordinary people and soon leads to a rebellion... What if the French Revolution didn't happen the way we were told?"
Aurélien Molas is also writing the series with Gaia Guasti (Red Needles), and the two will deliver eight episodes at 50 minutes each with production slated to begin sometime next year. Molas and series producer Francois Lardenois offered up this statement on the new project:
"When we discussed the idea of revisiting France's History through an epic and truly breathtaking series, the first question we had to ask ourselves was: who would support us? Short answer – only Netflix for such a Revolution!"
This series sounds like something akin to Da Vinci's Demons or Marco Polo, shows focusing on real life figures and the adventures they had during their younger years. The real Dr. Joseph-Ignace Guillotin was not actually the inventor of the guillotine, and he even opposed the death penalty. Instead, Guillotin was a a French physician, politician and freemason. However, this appears to be taking many more liberties with the life of Joseph Guillotin, turning him into a kind of 18th century Sherlock Holmes, or Joseph Guillotin who fucks.
If this doesn't sound appealing, that's because Netflix is likely gearing this towards more international audiences, especially those in France and the surrounding territories. Of course, that's not to say US audiences won't discover the series and be entertained by it. There are plenty of foreign language programs on Netflix that have garnered attention and acclaim from American audiences, such as Occupied, Dark, Cable Girls, and Money Heist. Perhaps this untitled series could be one of them.
Stay tuned to find out when the French Revolution series hits Netflix.