Steven Spielberg's 'West Side Story' Remake Will Feature A Role For Original Star Rita Moreno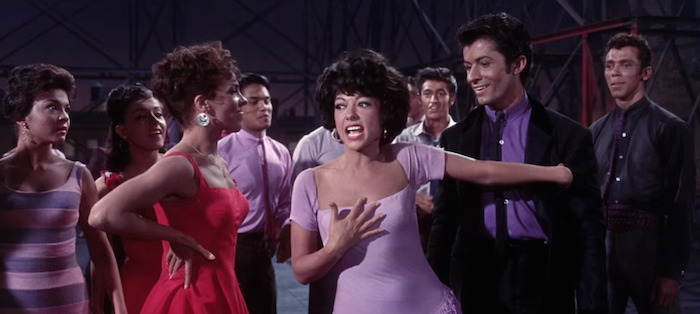 When it comes to the entertainment industry, there are legends and then there are Legends with a capital "L" and some italics. Rita Moreno is the latter. Over 50 years after she won an Oscar for her work in 1961's West Side Story, the legendary triple threat will return for the new version being helmed by fellow Legend Steven Spielberg. And if you're racking your brain trying to remember a role in the original movie appropriate for an 86-year old woman, stop trying. Moreno will be playing a new character created specifically for the remake.
Deadline reports that Moreno will play Valentina, a "reconceived and expanded" version of Doc, a corner store owner in the original movie. In that version, Doc employed Tony, one of the two star-crossed young folks who fall in love despite being from rival gangs, igniting a conflict in the streets of New York. Violence and dancing (but mostly dancing) ensues. While Doc has a small but pivotal role to play in the original story, it's easy to imagine the role being significantly rewritten to play a larger part in the movie and to take advantage of Moreno's talents.
It remains to be seen who will play Anita, the role Moreno made famous 57 years ago, but Baby Driver star Eiza Gonzalez is apparently in the running. However, we do know that fellow Baby Driver star Ansel Elgort will play Tony, which means Moreno will get to share many scenes with the rising actor. We still don't know who will play Maria, the film's female lead.
In addition to her role in the film, Moreno will also receive an executive producer credit. As Spielberg himself said in an official statement:
From our earliest discussions, we wanted to include Rita Moreno in our production. Her Anita is one of the greatest musical performances ever filmed, and a personal favorite of mine. We created an original role for her, and we feel beyond fortunate that Rita will bring her extraordinary gifts as an actress, as well as her deep understanding of West Side Story to this production as an executive producer.
Moreno is one of the very few performers to every EGOT – win an Emmy, a Grammy, an Oscar, and a Tony. She's an undeniable talent and a living national treasure whose other accolades include a Screen Actors Guild Life Achievement Award and the Presidential Medal of Freedom. In fact, she's so good in the original West Side Story that the main characters and main storyline suffer because the movie is never as good as when the camera is focused on here. Just watch her perform "America," the best song in the show.
No release date has been set for the new West Side Story.