'Spider-Man: Into The Spider-Verse' Sequel And All-Female Spin-Off In The Works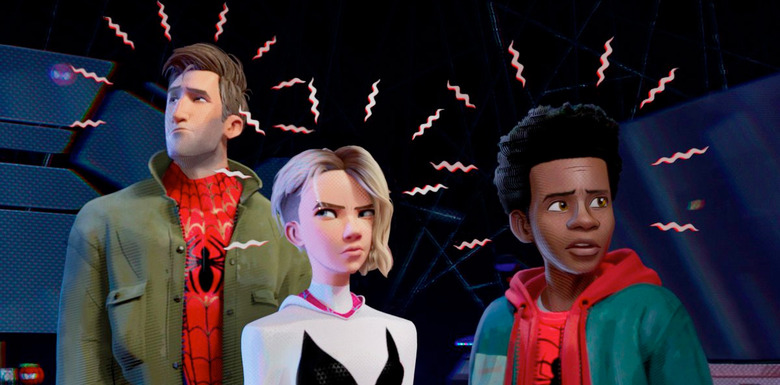 Update: THR's Borys Kit has learned that Wonder Woman 1984 screenwriter David Callaham will write the Into the Spider-Verse sequel. Our original story continues below.
Well, here's a sign of confidence: Sony is developing not only a sequel to Spider-Man: Into the Spider-Verse, which hits theaters next month, but a spin-off movie starring an all-female team of spider-powered characters. Naturally, Spider-Gwen – an alternate universe version of classic Spider-Man character Gwen Stacey, who plays a major role in Into the Spider-Verse – is expected to lead the latter.
Details for both projects are under wraps (mainly because they are literally years away from being ready), but The Hollywood Reporter says that Joaquim Dos Santos, a veteran of the beloved animated series Avatar: The Last Airbender, will direct the sequel. While that means original directors Bob Persichetti, Peter Ramsey, and Rodney Rothman will not return, many other behind-the scenes figures will mostly likely be back, including producer Amy Pascal, writer/producer Phil Lord, and producer Chris Miller. However, THR notes that not every deal has been locked down just yet.
Meanwhile, the all-female spin-off will be directed by Lauren Montgomery, a veteran of DC animated movies including Batman: Year One and Superman/Batman: Apocalypse. Bek Smith will write the script.
Naturally, no release dates have been announced for either movie, but expect both of them to come together as fast as possible should Spider-Man: Into the Spider-Verse perform well next month. And if the early buzz is any indication, audiences are going to love these characters and want a sequel and spin-off immediately.
The sequel will presumably continue the adventures of Miles Morales, a young man who becomes Spider-Man in an alternate universe and gets visited by classic Spidey Peter Parker (along with various other Spider-Folks) via dimensional craziness. It's not clear who will make up the ensemble of the all-female movie yet, but they're not lacking in options. Spider-Gwen (voiced by Hailee Steinfeld) looks to be a scene-stealer in Spider-Verse, and she's an incredibly popular character amongst comic book fans. Expect to see the team around her filled out with the likes of Spider-Woman, Madame Web, Spider-Girl and Silk.
This news comes on the heels of Venom becoming a box office juggernaut despite it, well, not being very good at all. However, it does prove that Spider-Man movies outside of Disney's Marvel Cinematic Universe can pack theaters. If Spider-Verse is as good as I've heard, this one will pack theaters and be a good experience, which will be a nice change of pace. Meanwhile, Sony has that Morbius solo movie starring Jared Leto in the works, hoping to further ride those Venom coattails.
Spider-Man: Into the Spider-Verse opens on December 14, 2018.