'Mary Poppins Returns' Clip & TV Spot Bring Back Your Favorite Nanny, Tickets Are Now On Sale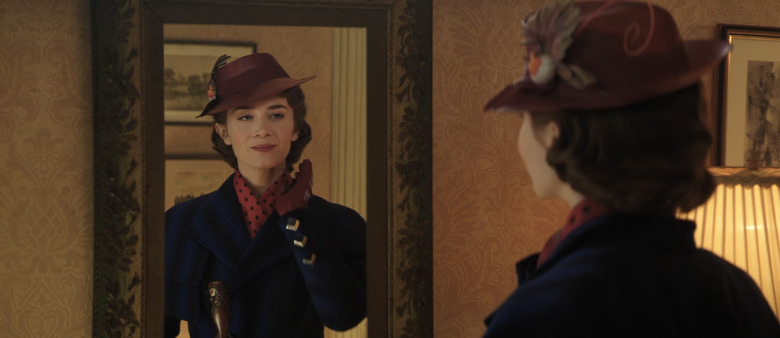 Sequels dominated the Thanksgiving box office last weekend, including Disney's sequel Ralph Breaks the Internet. The Christmas season will see yet another sequel from the House of Mouse likely raking in a truckload of cash, too.
Mary Poppins Returns arrives in theaters just before Christmas, and Disney has released a new clip and TV spot from the family friendly musical to announce that tickets are now on sale. Check out both of them below.
Mary Poppins Returns Clip
The first Mary Poppins Returns clip features the return of the titular nanny after the next generation of Banks children (Pixie Davies, Nathanael Saleh, and Joel Dawson) ends up catching a nanny while out flying a kite in some windy weather. Mary Poppins walks briskly into the house without hesitation, a great amount of confidence surrounding her as the Banks children from the original film (all grown up as Ben Whishaw and Emily Mortimer) are shocked to see her. But even as adults, they're not excluded from being scolded and reeled in by the magical nanny.
Since Mary Poppins is one of Disney's most beloved classic movies, the sequel has a lot to live up, especially with Emily Blunt taking the role so memorably played by Julie Andrews (who won't be appearing in this one). However, this does look to have some of that classical magic that Disney's live-action musicals are best known for.
If you'd like to know more about Mary Poppins Returns, you can check out our set visit report in full over here. Otherwise, there's a new TV spot to watch below, and tickets for the sequel are now on sale. Check your local theaters for showtimes and make plans to get your family in theaters together for this magical new adventure.
Set in 1930s London, which is the time period of the original novels by P.L. Travers. The story follows Michael (Ben Whishaw) and Jane Banks (Emily Mortimer), who are now grown up. Michael is living with his three children (Pixie Davies, Nathanael Saleh, and Joel Dawson) and housekeeper Ellen (Julie Walters), in the house on Cherry Tree Lane. After Michael has a personal loss, Mary Poppins (Emily Blunt) comes back into the lives of the Banks family. She is joined by a street lamplighter named Jack (Lin-Manuel Miranda), and an eccentric cousin named Topsy (Meryl Streep).
Mary Poppins Returns opens December 19, 2018.