'Ralph Breaks The Internet' Tops Box Office, 'Robin Hood' Can't Steal From The Rich, 'Creed II' Does Great Too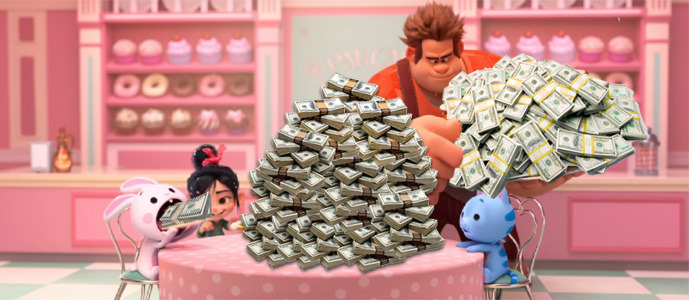 Thanksgiving is always a huge weekend at the box office, with a bunch of new titles packed into theaters while families are together for the holidays. This year was no exception, with Ralph Breaks the Internet raking in enough dough to land the second largest Thanksgiving box office haul ever across the five-day holiday weekend. And not far behind was Creed II, landing the largest opening ever for a live-action film released in this window. But the new Robin Hood starring Taron Egerton and Jamie Foxx? That one didn't do so well.
Get the full rundown of the Thanksgiving weekend box office below.
Box Office Mojo has all the numbers from the weekend, and they've got Ralph Breaks the Internet topping the chart with a huge $84.5 million take. That wasn't enough to land the biggest Thanksgiving opening weekend since Frozen earned $93.5 million back in 2013, but that still gives Disney eight of the top 10 biggest Thanksgiving opening weekends of all-time. Ralph Breaks the Internet is undoubtedly on the way to a huge box office haul, especially by sticking around through Christmas.
Coming in second place is another sequel, Creed II, with a smaller take of $55.8 million across the five-day weekend. But that's enough for the movie to earn back its entire budget already. Despite not landing the top spot, Creed II still landed the seventh largest Thanksgiving opening weekend of all time. That also makes it the biggest Thanksgiving opening weekend for a live-action movie, since animated movies dominate the top part of the chart. Impressively, Creed II also made $16 million more than its predecessor, but we'll see if that trend continues when there's a Creed III.
The next three spots were filled by holdovers, including Fantastic Beasts: The Crimes of Grindelwald barely beating out The Grinch. The Harry Potter spin-off stuck around for the #3 spot with $42.9 million while The Grinch came very close behind with $42 million. But the real story from the holdovers is Bohemian Rhapsody still kicking around the top five with another $19.37 million added to its domestic total, which is now over $152 million.
However, it's not all good news, because there was a new release that bombed hard. Robin Hood debuted in the #7 spot on the chart with just $14.2 million earned across five days. The Wrap says that low of an opening on a budget of just under $100 million is enough to make Robin Hood the biggest bomb of 2018. It's the worst start for any movie this year with a budget of $90 million or higher. But even so, that's nowhere near as bad as last year's King Arthur: Legend of the Sword.