'Crashing' Season 3 Trailer: Pete Holmes Gets A New Jacket, Meets John Mulaney, Becomes A Sell Out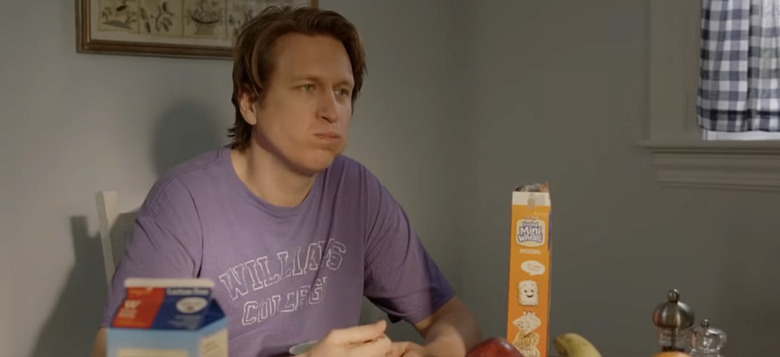 The self-described golden retriever of a comedian known as Pete Holmes has been riding a new wave of fame recently, but only because he's playing a regressed version of himself on the HBO series Crashing. That's okay though, because seeing Pete Holmes tap into his former (and possibly current) insecurities in this personal and hilarious series is truly a gift to audiences.
Now it looks like things are getting simultaneously better and worse for ol' Petey Pants in the first trailer for the upcoming third season of Crashing, which features a new array of famous comedian guest stars, including Pete's real-life, longtime friend John Mulaney.
Crashing Season 3 Trailer
As you can see, the Pete Holmes of Crashing is up and coming, and it's a dream come true when big-time comedian John Mulaney asks for him by name. However, there may have been some wires crossed somewhere, because Mulaney has no idea who Pete is when meeting for the first time. Then again, Mulaney could just be messing with him, because that's just how comics are.
Other life updates for Pete include a new jacket that becomes the subject of mockery from some of his fellow comedians, not to mention a new girlfriend (Madeline Wise), though Pete's mother doesn't seem impressed or convinced that she's actually into him.
Of course, the comedy side of Crashing is still front and center, and it appears Pete Holmes is entering a whole new level of success, albeit in a less desirable fashion. In season three, Pete starts playing these massive sold out venues, but the only problem is that they're mostly churches, and he's not really allowed to be himself. But he's getting paid a shitload of money, so it's all good, right?
Adding to the comedy world of Crashing are the fantastic guest stars, which include Amy Schumer, Ray Romano, Colin Quinn, Dave Attell, Chris Gethard, and recently dubbed youth corespondent on The Daily Show, Jaboukie Young-
White. Plus, Artie Lang is still kicking around and Pete's real-life ex-girlfriend Jamie Lee will be popping up again too.
Crashing season 3 debuts on HBO on January 20, 2019 at 10pm ET/PT.