Ricky Jay, Famed Character Actor And Master Magician, Has Died At 72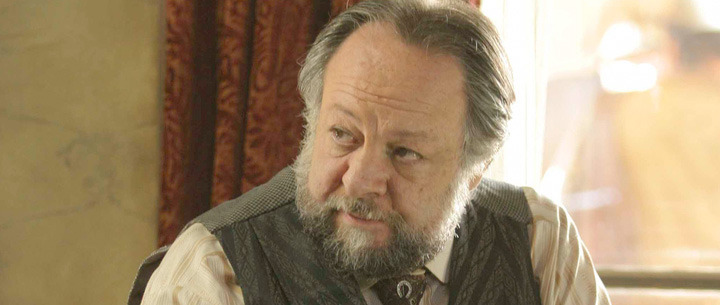 Ricky Jay is one of those actors who you'd see popping up in the likes of The Prestige, Mystery Men and Boogie Nights, not a household name, but surely one of those people who made audience members go, "Hey, it's that guy." But outside of his career on film and television, Ricky Jay was a masterful magician, dubbed "the most gifted sleight of hand artist alive" by The New Yorker. Sadly, Jay has performed his last trick, as the character actor and illusionist has died at age 72.
News of Ricky Jay dead has been confirmed by the actor's attorney Stan Coleman (via Deadline) after the actor died of natural causes on Saturday in Los Angeles. Jay's manager also confirmed the news and added, "He was one of a kind. We will never see the likes of him again."
Indeed, Ricky Jay was truly a unique talent. The man's work as a character actor can't go unnoticed with appearances in Tomorrow Never Dies, State and Main, The Great Buck Howard, not to mention the shows Deadwood and The X-Files under his belt. Perhaps one of his most memorable performances comes from his voiceover in the opening of Magnolia:
However, other work for the big screen included being a consultant when it came to the cons, tricks and magic of The Prestige, The Illusionist, Ocean's 13, Heist, Sneakers and more. He even formed a company with collaborator Michael Weber called Deceptive Practices to better offer their expertise to film productions, including creating the wheelchair that kept Gary Sinise's legs hidden in Forrest Gump. That's because Ricky Jay is first and foremost, one of the most revered magicians in the world.
Ricky Jay dazzled people with his tricks. A fascinating profile from The New Yorker recalls this particular instance when Jay wowed a New Year's Eve party with a mind-blowing trick:
"Deborah Baron, a screenwriter in Los Angeles, where Jay lives, once invited him to a New Year's Eve dinner party at her home. About a dozen other people attended. Well past midnight, everyone gathered around a coffee table as Jay, at Baron's request, did closeup card magic. When he had performed several dazzling illusions and seemed ready to retire, a guest named Mort said, "Come on, Ricky. Why don't you do something truly amazing?"
Baron recalls that at that moment "the look in Ricky's eyes was, like, 'Mort—you have just fucked with the wrong person.' "
Jay told Mort to name a card, any card. Mort said, "The three of hearts." After shuffling, Jay gripped the deck in the palm of his right hand and sprung it, cascading all fifty-two cards so that they travelled the length of the table and pelted an open wine bottle.
"O.K., Mort, what was your card again?"
"The three of hearts."
"Look inside the bottle."
Mort discovered, curled inside the neck, the three of hearts. The party broke up immediately."
Ricky Jay's tricks were front and center in three one-man shows, Ricky Jay and His 52 Assistants, Ricky Jay: On the Stem, and Ricky Jay: A Rogue's Gallery, all of which were directed by filmmaker, author and playwright David Mamet. You can even watch one that was turned into an HBO special right here:
In fact, Mamet featured Jay in several of his films, including House of Games, The Spanish Prisoner, Things Change, Redbelt and State and Main. Having worked on The Spanish Prisoner, fellow magic aficionado and actor Steve Martin said, "I sort of think of Ricky as the intellectual élite of magicians. He's expertly able to perform and yet he knows the theory, history, literature of the field."
If you'd like to learn more about Ricky Jay's incredible skills as a magician, check out the 2012 documentary Deceptive Practice: The Mysteries and Mentors of Ricky Jay. You'll see that Jay was truly a treasure, and there wasn't really anybody quite like him working in Hollywood today.
Our thoughts go out to his family and friend during this difficult time. Rest in peace.