'Aquaman' Gets A Spoonful Of Sugar From Julie Andrews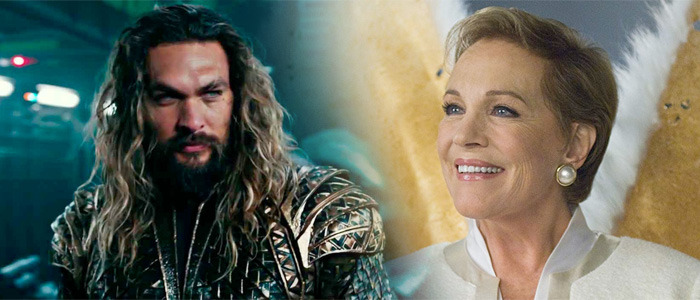 With Mary Poppins Returns heading to theaters next month, you might think that it's a no-brainer that the original film's star Julie Andrews would be making some kind of appearance in the Disney sequel. However, the actress has already confirmed she didn't want to take away from Emily Blunt inheriting the role of the magical nanny, so she's not popping up in Mary Poppins Returns. Instead, another major December release has been graced with the talents of Julie Andrews.
Aquaman has been completely finished for a little while now, with reactions from early screenings already hitting the web and other early screenings planned one week before the film officially hits theaters everywhere. But we're only just now hearing that Julie Andrews is lending her voice to a certain character in the DC Comics adaptation.
Find out where you'll hear Julie Andrews in Aquaman below.
Entertainment Weekly found out the Sound of Music star would be voicing a mythical undersea creature known as the Karathen. The character who holds the key to helping Arthur Curry (Jason Momoa) broker peace between Atlantis and the surface world.
Julie Andrews hasn't appeared in a live-action movie since The Tooth Fairy back in 2010. However, she has lent her voice to the Despicable Me franchise as Gru's mother, as well as the Queen mother of Princess Fiona in the Shrek franchise. But this is the first time her voice has been lent to a major live-action blockbuster in over a decade. She previously voiced the narrator in Disney's Enchanted.
So how did we get the voice of Julie Andrews in Aquaman? Producer Peter Safran explains:
"We wanted the Karathen to have the voice of a classic British actress, albeit somewhat digitally altered. And when we found out Julie was interested and available and excited to do it, casting her was a no-brainer. Who knew that Aquaman would have the real Mary Poppins this Christmas?"
Aquaman will be opening in theaters on December 21, 2018, just a couple days before Mary Poppins Returns arrives in time for Christmas. But you'll be able to catch it a week earlier if you have an Amazon Prime membership. Which one will top the box office during the Christmas holiday weekend? Early projections have Aquaman with an edge over Mary Poppins Returns, but we won't know for sure until the movies hit theaters.