'If Beale Street Could Talk' Featurette Dives Into The Power Of Writer James Baldwin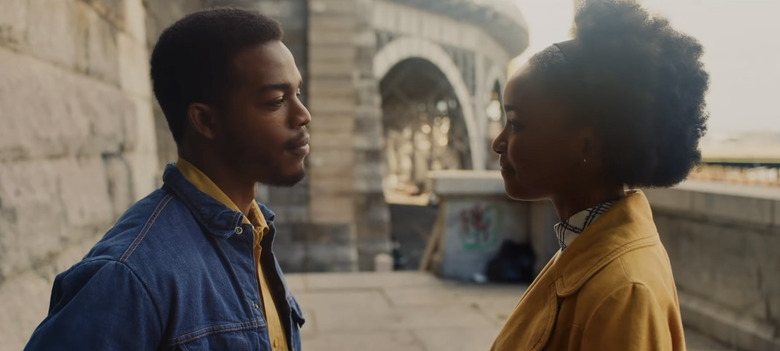 Moonlight director Barry Jenkins is back behind the camera with If Beale Street Could Talk, the first major big screen adaptation of the work of author James Baldwin. It's a surprising project for the director, mostly because James Baldwin's estate, managed by sister Gloria Karefa-Smart, consistently says no to film adaptations of James Baldwin's stories. A new If Beale Street Could Talk featurette explores why this story is so revered, and how Barry Jenkins has turned it into a film that will undoubtedly be a key player this awards season.
Watch the extensive If Beale Street Could Talk featurette below.
If Beale Street Could Talk Featurette
If Beale Street Could Talk is not an easy story to experience as it draws from the tragedy of prejudice that all too often has existed throughout our history. The film follows Tish (KiKi Layne), a 19-year old girl who finds herself pregnant by Fonny (Stephan James). The good news is that they're madly in love, but the bad news is Fonny is being sent to prison for a crime he didn't commit, leaving Tish alone with the prospect of a new child with her mother (Regina King) struggling to keep her afloat.
Much of the discussion in this featurette is about the legacy of James Baldwin and the power of the words he wrote in the 1974 novel of the same name. And interspersed between it is footage from If Beale Street Could Talk, showing that Barry Jenkins has created a quiet, contemplative film adaptation worthy of James Baldwin's writing, one that perfectly captures the intense passion and love between Tish and Fonny, a love so strong that it might be enough to stand up against even the darkest times in their lives.
Our own Chris Evangelista wrote in his review from the Toronto International Film Festival:
"There are no easy answers in If Beale Street Could Talk, just simple, and often maddening, realities. At times, the hopelessness threatens to take hold of the film. But the love prevails. The tender romance between Tish and Fonny is a beacon; a lighthouse to gravitate towards across turbulent seas. Love brought them here. Now they have to trust it all the way."
If that's not enough to convince you, maybe you should watch the most recent trailer. If Beale Street Could Talk opens November 30, 2018, and it will be vying for plenty of awards over the next couple months, so make sure to see it as soon as possible.