'Ralph Breaks The Internet' Zeroes In On $70 Million Opening During Long Thanksgiving Weekend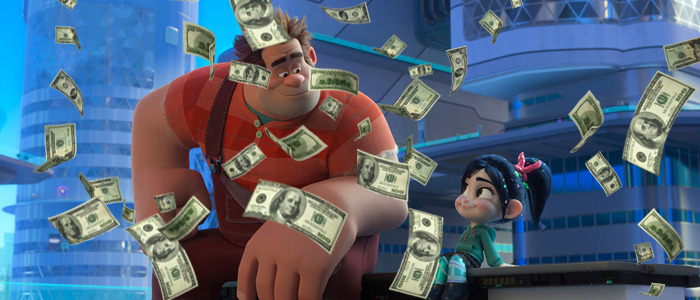 Ralph and Vanellope are back in Walt Disney Animation's Ralph Breaks the Internet, which opens tonight with preview screenings in the United States. A new round of tracking numbers suggest that the sequel, which takes the arcade game characters into the wild world of the Internet, could earn as much as $70 million over the Thanksgiving holiday. That would make it one of the top Thanksgiving openers of all time.
If Ralph Breaks the Internet opens at #1 at the box office, it'll be Disney's third straight Thanksgiving champ in a row, following last year's excellent Coco ($72.9 million five-day) and 2016's Moana ($82 million five-day). BoxOfficeMojo says the new sequel is tracking similarly to Coco and outpacing Moana in IMDb page views at this point in the build-up to release, and Fandango's internal sales numbers say Ralph Breaks the Internet is on pace to top both of those movies.
2012's Wreck-It Ralph had a five-day opening total of $56.7 million, so it looks like this sequel is going to blow that out of the water. If these numbers hold, it will become Disney 12th Thanksgiving topper since 1982.
Ralph Breaks the Internet is a perfectly fine sequel for the younger crowd, but adults may find themselves rolling their eyes more than they did in the original. The sequel goes out of its way to stuff in as many references to popular websites as possible, and because the film is set inside a modern world in which many of us spend most of our waking hours, the somewhat novel feeling of the first movie is gone. Here's an excerpt from /Film contributor Josh Spiegel's review of the movie:
There's nothing exactly wrong with Ralph Breaks the Internet, but it lacks the same emotional heft as Disney's 2016 efforts, Zootopia and Moana. It's not that this new film avoids emotion — Ralph and Vanellope's friendship is fraught with it — as much as it simply feels a bit more forced this time around. What makes Disney animated films so special is their universality, and it's a bit hard to find that in a movie that feels very, very specific to the time of its release. (Or, more frankly, to two years ago, when some of the cultural references might have had more bite.) Even the depiction of Ralph's friendship with Vanellope is rooted in a specific time period, or in the way that people are Facebook friends with each other in the mid-21st century.
Ralph Breaks the Internet opens in theaters tonight.