The New Beverly In Los Angeles Reopens In December, Check Out The Exciting New Schedule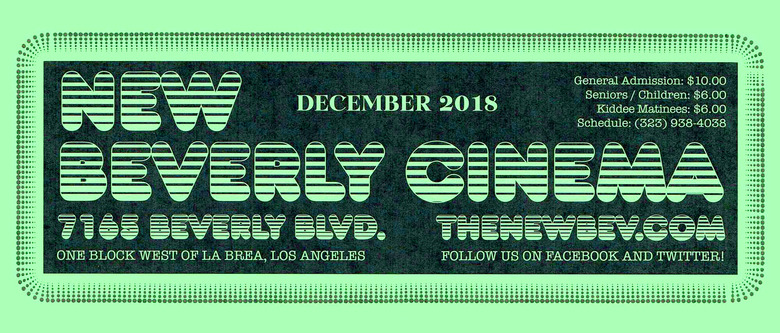 Back at the end of 2017, the popular New Beverly movie theater in Los Angeles announced they would be closed for part of 2018 in order to install "variety of exciting upgrades and enhancements." Known for playing a variety of classic and new movies, special double features, exclusive events, and much more, the theater owned by filmmaker Quentin Tarantino was a popular destination for cinephiles living in the area, and a must-stop destination for movie-loving tourists, but it's been closed for almost the entire year. Now the New Beverly is finally preparing to reopen its doors in December, and they've got quite the line-up of movies to welcome everyone back.
The New Beverly reopening announcement was made on Twitter with December 1 as their first official day back open to the public. Furthermore, they released their full calendar for December, and it's chock full of great holiday screenings, a round of gangster movies, some classic westerns, and even some family friendly matinees that everyone will want to see on the big screen again in glorious 35mm. Check out the full roster: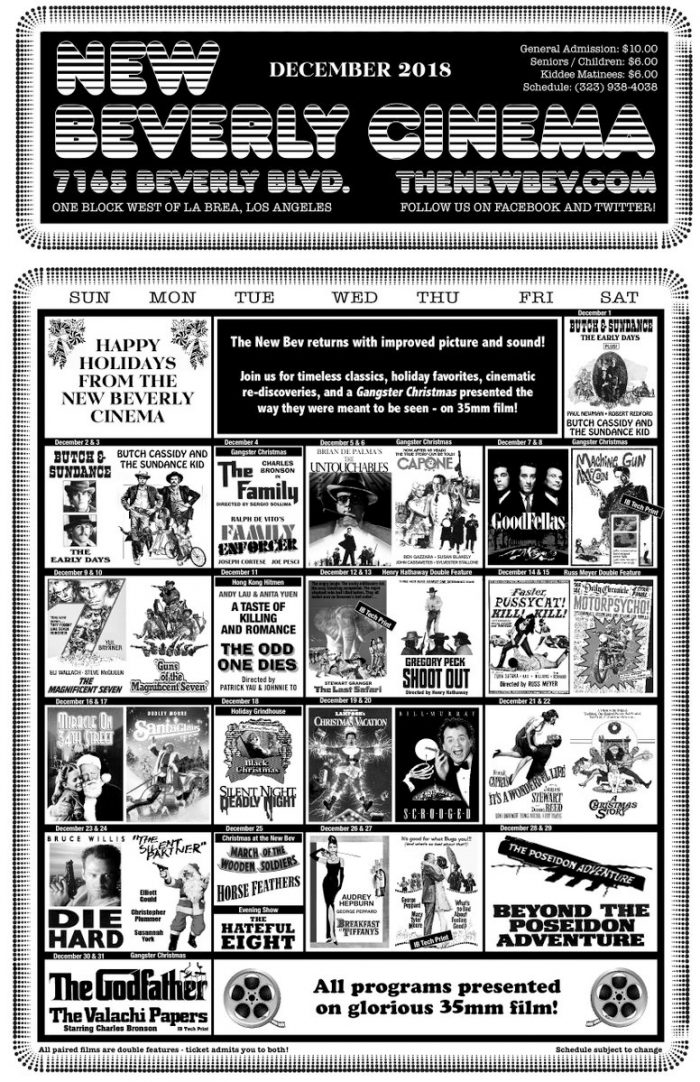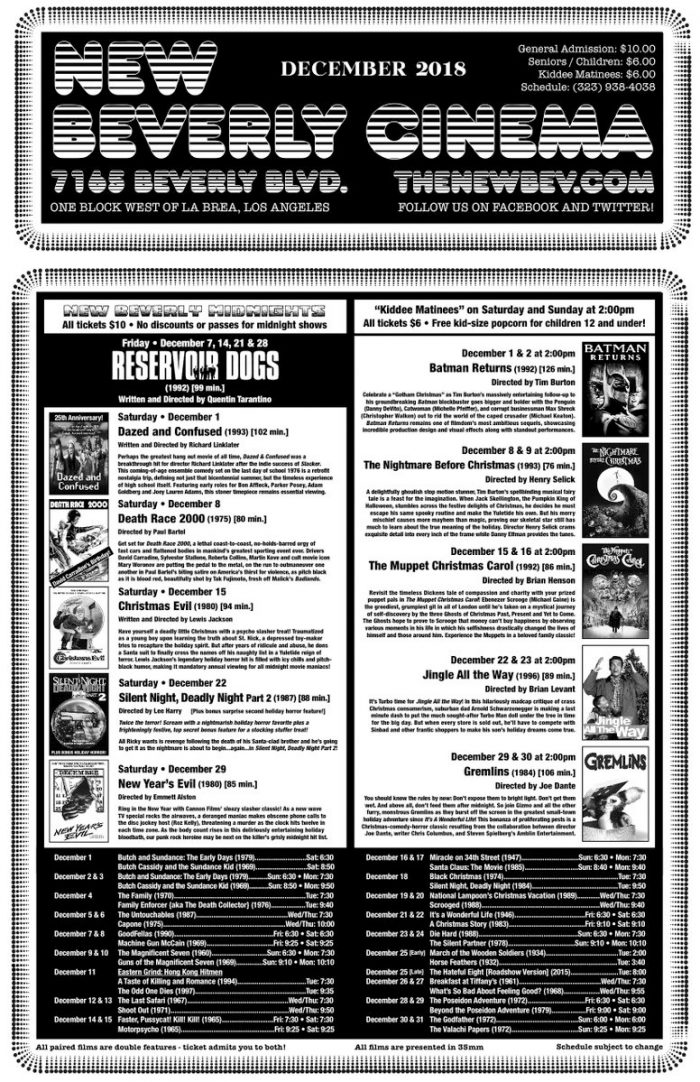 The New Beverly makes their triumphant return with Butch & Sundance: The Early Years and Butch Cassidy and the Sundance Kid. Then they steer into a "Gangster Christmas" with screenings of films like The Untouchables, The Family and GoodFellas, which picks up again for New Year's Eve and New Year's Day with showings of The Godfather and The Valachi Papers.
Don't worry if you're not up for criminals shooting everything up this holiday season though, because they also have a whole week of programming with festive favorites like Scrooged, Christmas Vacation, A Christmas Story and the original Miracle on 34th Street. There's even a special holiday grindhouse screening of Silent Night, Deadly Night.
The "Kidee Matinee" screenings on Saturdays and Sundays also bring some holiday fun, ranging from darker fare like Tim Burton's Batman Returns and The Nightmare Before Christmas to lighter holiday comedies like The Muppet Christmas Carol and Jingle All the Way. And what would Christmas be without a showing of Gremlins and Die Hard?
As for you night owls, the midnight line-up brings Reservoir Dogs to the big screen every Friday in December. Meanwhile, Saturdays start off with Dazed and Confused and Death Race 2000 before also heading into holiday territory with Christmas Evil, Silent Night, Deadly Night Part 2, and New Year's Evil.
If you're not really up for any particular theme throughout the month, the schedule also includes double features of the films of Henry Hathaway and Russ Meyer. Or maybe you'd like to hit the sea with The Poseidon Adventure and the follow-up Beyond the Poseidon Adventure.
The New Beverly has something for everyone, and it's nice that the theater is back to give cinephiles these fantastic big screen experiences again. Personally, I haven't been to the New Beverly in years, but a double feature of Planes, Trains & Automobiles with Ferris Bueller's Day Off, complete with special guests for a Q&A afterwards, really made me a fan for life. Can't wait to go back next time that I'm in the area.
For more details on The New Beverly, check out their official website.