'Big Mouth' Season 3 Ordered By Netflix For More Raging Hormones And Raunchiness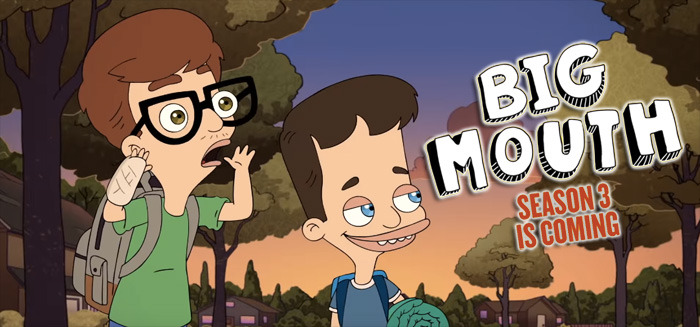 The second season of the raunchy and hilarious animated series Big Mouth hit Netflix just last month, but the streaming service has already decided that the pains of puberty are far from over for our horny teenage characters.
Over the weekend, Netflix officially ordered Big Mouth season 3, and for anyone who watched the second season of the series already, you already know what's coming in the third season.
Big Mouth Season 3 Announcement
Spoilers ahead.
At the end of the third season, Nick (voiced by co-creator Nick Kroll) finally started to experience puberty, but in a surprise twist, his hormone monster was none other than Connie (Maya Rudolph), the female hormone monster who has been working with Nick's friend Jessi (voiced by Jessi Klein). It'll be interesting to see how that works out. Will Nick have some kind of incredible insight into how women operate? Or does him having a female hormone monster indicate that he might deal with bisexuality? Anything is possible in this world of raging hormones.
Meanwhile, Jessi realized that she needed to be in therapy to deal with depression after tackling a bout of it thanks to the Depression Kitty. The way Big Mouth has been handling her character has been one of the more fascinating and successful parts of the show, tapping into an issue that isn't usually covered so genuinely – especially in programming like this.
As for Andrew (voiced by John Mulaney), he seems to have matured a bit, especially when it comes to getting in touch with his shame, thanks to some sympathy for the Shame Wizard (voiced by David Thewlis) and not letting his hormone monster (also voiced by Nick Kroll) be so controlling that he has no shame. But how will his relationship with Missy (voiced by Jenny Slate) continue?
Big Mouth is one of the best pieces of original programming that Netflix has right now. It's raunchy and hilarious, but there's also this honesty to the absurd proceedings that makes everyone who ever went through puberty connect with it on some level, at least if they don't mind the graphic nature of it all.
Nick Kroll, Andrew Goldberg, and screenwriter/directors Mark Levin & Jennifer Flackett are all creators and executive producers on the series, and we can't wait to find out when the third season will be hitting Netflix. Since it took about a year for the second season to come around, we're betting next fall will see the return of out favorite disgusting little teenagers and their filthy hormone monsters.