New 'Star Wars: Galaxy's Edge' Ride Details Emerge, Ensuring Long Lines For Years To Come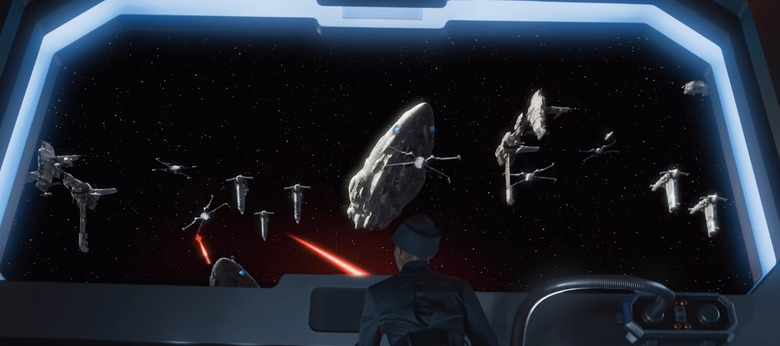 Over the weekend, we got a bunch of updates about Disney's upcoming theme park expansion known as Star Wars: Galaxy's Edge. Not only was the theme composed by John Williams unveiled, but a couple teasers announced the official names of two attractions guests will be able to check out. But the updates don't stop there.
Some new Star Wars Galaxy's Edge ride details have emerged, giving us some more insight into what fans can expect when they check out the Millennium Falcon: Smuggler's Run and Star Wars: Rise of the Resistance attractions. These are going to have endlessly long lines.
Millennium Falcon: Smuggler's Run
Fans are eager to get in the cockpit of the Millennium Falcon and get at the controls of the fastest hunk of junk in the galaxy. And it sounds like it's going to be a little bit of a challenge. The New York Times revealed that there will be 200 cockpit controls in the Falcon that guests will use to control the ship. In response to their controls, the ride will utilize real-time video rendering technology. Scott Trowbridge, the Disney creative executive overseeing the Galaxy's Edge projects, says:
"It's a personalized intergalactic ride — live your own 'Star Wars' story. If you crash into a wall, that's what you will see out the cockpit window."
Star Wars: Rise of the Resistance
This attraction from Star Wars: Galaxy's Edge is still very much shrouded in mystery, but at least one detail has emerged. Apparently, guests will be boarding an Imperial Star Destoryer and inside will be 50 animatronic Stormtroopers. It's not clear if guests will be interacting with them or if this is all for show. But as the teaser shows above, guests will be part of some kind of big battle between the First Order and the Resistance.
Part of me wonders if this could be another gallery shooter like Toy Story Mania. After all, what would a Star Wars theme park attraction be without an attraction that lets you pick up a blaster and start shooting lasers all over the place? This one might even put you on the side of the First Order, since the above video shows them preparing for a fight with the Resistance.
If you want more details on Star Wars: Galaxy's Edge, check out the recently revealed blueprint that shows off the plans for the hotel resort. The more we see from Disney, the more excited we are for next summer when Batuu is open for business at Disneyland.