Pick Up This Stunning 'Parks And Recreation' Print To Support LA Firefighters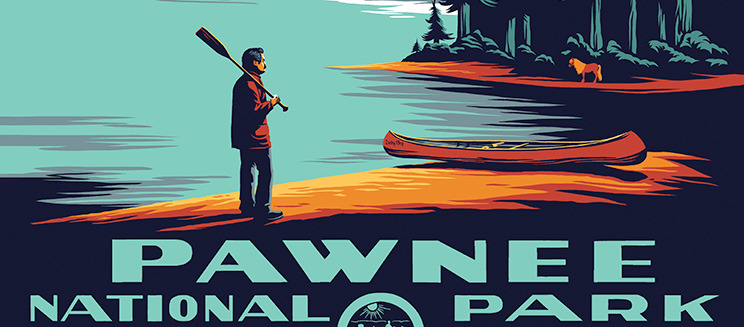 It's been a few years since Parks and Recreation came a close, leaving the Pawnee National Park in the fully capable hands of none other than Ron Swanson (Nick Offerman). And if you've been hoping to commemorate that beautiful moment when the government naysayer finally got his dream job in his hometown, then we have good news.
Shortly after Parks and Recreation came to an end, artist Mark Englert teamed up with Bottleneck Gallery to release a limited edition poster celebrating Pawnee National Park. It sold out pretty quickly and it's been quite the coveted print among collectors for some time. But now you have your chance to get your hands on an official reprint of the beautiful piece in question, and your money will go to support the Los Angeles Fire Department as they continue to battle the devastating wildfires in California.
Mark Englert Parks and Recreation Print for Charity
Here's the  official press release from Bottleneck Gallery about the Mark Englert Parks and Recreation print:
We love superheroes. They give us hope, and allow us to aspire to be the best versions of ourselves, while also allowing our dreams to run wild with possibilities. And while we tend to deal with the fictional types of superheroes with some of our releases, there are often real superheroes out in the world that we hear about, and we want to support these heroes as best as we can. So this week, we're releasing a new edition of Mark Englert's Pawnee National Park print to support the relentlessly brave and heroic firefighters battling the devastating fires out in California.
Thanks to our many vigilant buyers and fans, we've been made aware that Mark's previous version of Pawnee, which we released as a limited edition print a few years ago, has unfortunately been stolen and used without our consent. In order to help combat art piracy, and to help the much more important issue of firefighter safety, we've teamed up with Mark to release a special timed edition variant of the Parks and Rec inspired Pawnee National Park print.
100% of the profits from this print release will go to the Los Angeles Fire Department in order to fund more hydration backpacks, which help firefighters as they combat the wildfires plaguing California. If you'd like to support the LAFD without purchasing a print, please feel free to donate directly at supportlafd.org–every penny is greatly appreciated, and helps fund some truly heroic folks.
If you want to get ahold of the Mark Englert Parks and Recreation print, it will be on sale from Monday, November 19 at 12pm ET through Sunday, November 25 at 11:59pm ET, exclusively at Bottleneck Gallery.