'Agents Of S.H.I.E.L.D.' Renewed For A 7th Season At ABC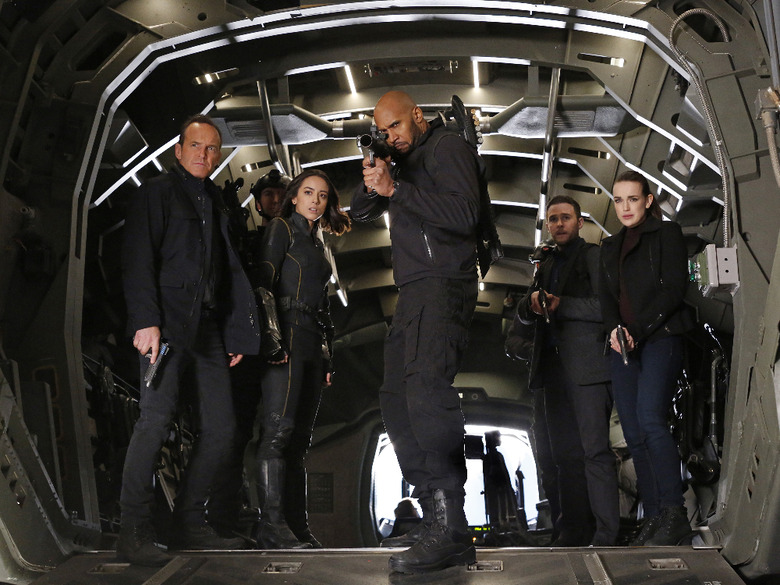 Agents of S.H.I.E.L.D., one of network television's most criminally underrated series, has been renewed for a seventh season at ABC. The network has given the Marvel series a season 7 order ahead of Agents of S.H.I.E.L.D.'s sixth season, which is set to premiere in next summer.
For much of its run, Marvel's Agents of S.H.I.E.L.D. has remained on the bubble, despite an ardent fanbase that has followed the secret intelligence agents since the show premiered on ABC in 2013. The show's fate seemed even shakier with the upcoming launch of the upcoming streaming service Disney+, with Marvel's Netflix shows like Iron Fist and Luke Cage getting canceled one after the other. But it seems that Agents of S.H.I.E.L.D. has a pretty strong — well — shield around it.
ABC announced that Agents of S.H.I.E.L.D. had been renewed for a 13th-episode seventh season, according to Marvel.com. Channing Dungey, president of ABC Entertainment, made the announcement Friday that the Marvel series would continue for another abbreviated 13-episode season, on the heels of the upcoming 13-episode sixth season.
Though the seasons remain shorter than the typical 22-episode broadcast order, this is a high vote of confidence for Agents of S.H.I.E.L.D on Disney's part, which until now had appeared to be putting all of its eggs in its Disney+ basket. The upcoming launch of Disney's streaming service, which will include its Marvel and Star Wars titles as well as original shows and movies, has cast a shadow over Marvel-related projects on other platforms, (potentially) leading to the surprising cancellations of Iron Fist and Luke Cage.
But Agents of S.H.I.E.L.D remains Marvel's scrappy little series that could, despite showrunners Jed Whedon and Maurissa Tancharoen preparing for a potential cancellation since season 5.
"We'll never end something without the potential for more story," Tancharoen said ahead of the season 5 finale earlier this spring, which she and Whedon had written to double as a series finale. "That's how we've ended every season because, whenever we've come to the end of all the seasons past, we go into that mostly not knowing until the very last minute, so we're basically doing the same thing to close out Season 5. It can fit well as a possible series finale, and it can fit well as just another season's end."
Agents of S.H.I.E.L.D. season 6 returns to ABC in summer 2019.