'Star Wars: Galaxy's Edge' Hotel Details Revealed; First Look At Disney California Adventure's 'Spider-Man' Ride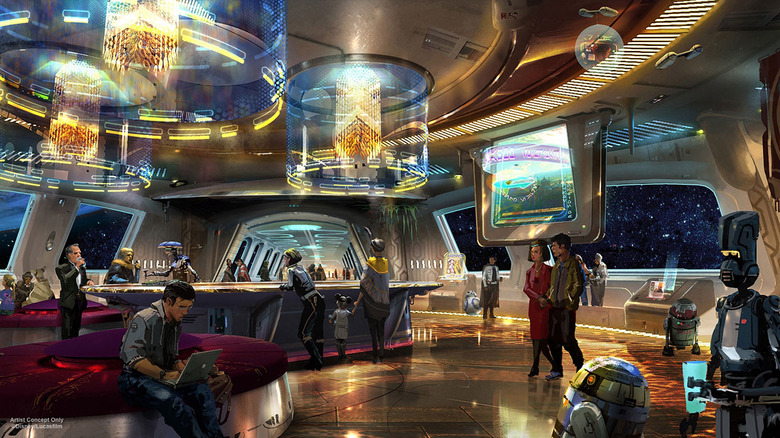 Disney is dropping some serious money to expand its theme park empire. A New York Times report says the company will be spending more on its theme parks parks than it did on Lucasfilm, Marvel, and Pixar combined – approximately $24 billion over the next five years alone.
A big chunk of that cash is being spent on Star Wars: Galaxy's Edge, the immersive new Star Wars land which aims to transport guests into a galaxy far, far away, and some new details have arrived about the Galaxy's Edge hotel that will seamlessly lead guests into the park. Plus, get a first look at the company's new Spider-Man ride that's coming to Disney California Adventure.
Star Wars: Galaxy's Edge Hotel Details
We've known for a while that Disney was planning to create a hotel for Galaxy's Edge visitors in Florida's Walt Disney World park that's decked out in the same completely immersive Star Wars vibe as the new land. Now a site called California Coaster Kings has uncovered a permit that was filed with the Florida Department of Environmental Protection which included a detailed floor plan of the first floor of the yet-to-be-named hotel. They have an in-depth breakdown there, but here are the highlights:
Upon arrival, guests will go through security, walking through metal detectors and passing luggage through an X-ray machine. This is obviously a measure in place to protect guests (and probably make sure no one brings any actual weapons into the hotel with their lightsabers), and CCK points out that if the area is themed like a spaceport, it makes thematic sense for you to go through a security checkpoint when you first get there.
The plan only reveals what's on the first floor, but there's plenty to talk about there: a buffet restaurant experience, and areas highlighted in red called the Dojo, the Brig, and the Engineering Room.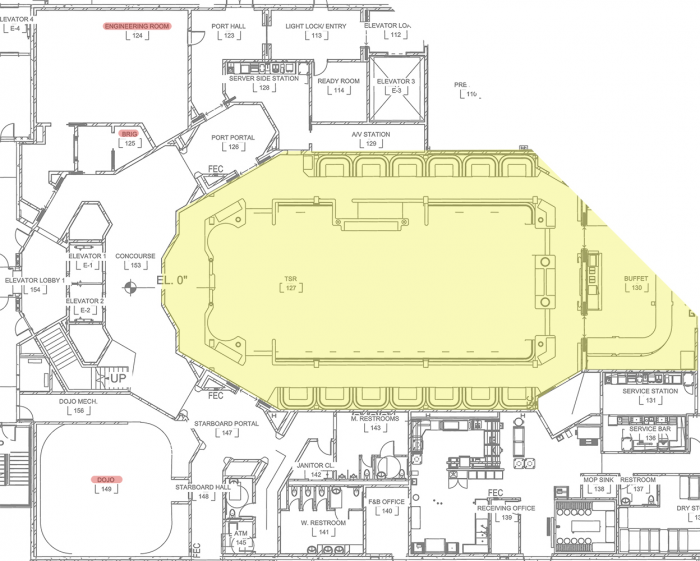 Considering this is supposed to be an immersive Star Wars experience, what could those rooms be for? Is the Dojo some sort of Jedi training ground? Will the Brig serve as a temporary jail area for guests who are captured by Imperial troopers? And how about the Engineering Room – is there an interactive experience there, too? Maybe one in which guests could communicate with the captain of the "luxury starship" they're supposedly aboard, suggest a course heading, and impact everyone's view through the windows out into the far reaches of space?
There's also a cabin layout, revealing 32 regular cabins and only two first class cabins on the first floor. It's possible that the two-story structure will copy large sections of the first floor's plan for the second floor; if the cabin layout is duplicated, that means there are only 68 rooms in the entire hotel. That would be a ridiculously small number – the smallest of any Disney World Resort hotel (aside from Saratoga Springs, which only offers 60 villas). And you know what that means: these rooms are cost a ridiculous amount of money to stay in. Keep in mind that it's always possible that there will be more cabins available on the second floor than the first.
The hotel butts up against Galaxy's Edge, and I had previously assumed that meant guests who were staying there would simply walk out a door that opens up right into the park. But that may not be the case. Take a look at this blueprint:
It looks like guests will enter the "transport hall" and walk through a gangway/corridor that opens up directly onto a shuttle bus, which will then take them to the park. Remember, this hotel is supposed to be situated somewhere in the galaxy – each guest's rooms has a view of space through their windows – so perhaps these buses are being used to preserve that illusion. I suppose it would ruin the magic if you're supposed to be in one place in the galaxy, a door opens, and you can just instantly walk out into another.
Spider-Man Ride Concept Art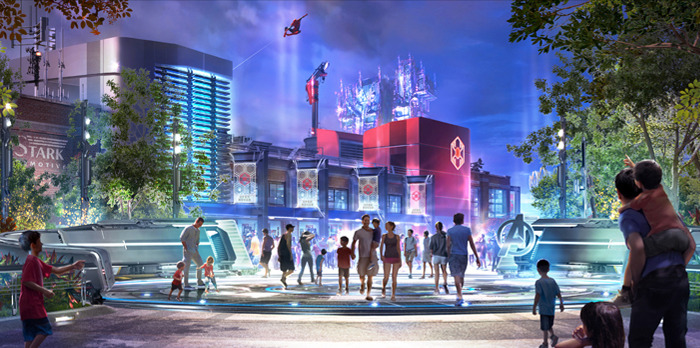 The New York Times piece I mentioned also shared this first look photo, saying in a caption that "Spider-Man will be a centerpiece of a new Marvel-themed ride at the Disneyland Resort." This will be in Disney's California Adventure, and rumored to be taking over the old It's Tough To Be A Bug theater building. It's unclear exactly what this Spidey ride will entail: we know Disney filed a patent for a "track-based swing ride with long arm pendulum" that seemed to be the perfect way to capture the feeling of swinging over skyscrapers as Spider-Man. But we've also heard the company is looking to build an interactive screen experience akin to Toy Story Midway Mania, in which guests use webshooters to digitally shoot at passing screens. This attraction could be either one – or possibly even a combination of the two.
One final theme park-related note: that same NYT article says that the Aerosmith Rock 'n' Roller Coaster at Disney's Hollywood Studios in Florida is slated to be "re-themed". As far as I can tell, this is the first time that news has been made public.
Disneyland Paris previously announced that they were going to re-theme their version of that attraction into a Marvel roller coaster, but Walt Disney World in Orlando can't use many of the Marvel characters because Universal Studios has a contract with Marvel Entertainment to use them east of the Mississippi. (Those characters currently appear at Universal's Islands of Adventure.) Walt Disney World found a loophole to be able to use the Guardians of the Galaxy in their innovative new roller coaster at Epcot, but it remains to be seen whether they'll be able to find a similar workaround for their Rock 'n' Roller Coaster or if will receive a different theme altogether.