'Shrek Retold' Trailer: The Fairytale Gets An Acid Trip Remake By Over 200 Animators And Filmmakers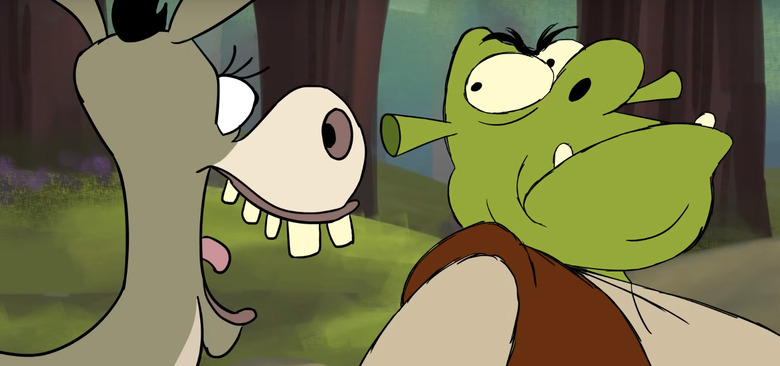 Not too long ago, we learned that the DreamWorks Animation hit Shrek would be getting some kind of reboot from Illumination Entertainment. But before that happens, a huge group of filmmakers and animators have collaborated to remake the entire original movie from scratch.
Shrek Retold is a reimagining of the original Shrek with over 200 storytellers tackling a small segment of the movie in their own unique style. As you can see, it plays out like some kind of acid-fueled trip through the satirical fairytale with a mix of charming homemade live-action footage and animation. Check out the Shrek Retold trailer to see how wild this project is.
Shrek Retold Trailer
This feels like something you'd see on Adult Swim late at night, or maybe in an episode of Ren and Stimpy or something like that. The trailer feels like a stream of consciousness version of Shrek that you'd see in your own head if you were totally blitzed at a rave. Shrek Retold weaves in and out of a wide variety of animation styles, ranging from totally amateur to semi-professional, and then there are live-action scenes with actors wearing makeshift costumes, or sometimes no costumes at all. It's quite the eclectic affair.
If this kind of project sounds familiar, that's because there was a project called Star Wars Uncut that previously did the same kind of thing. However, Star Wars Uncut, as well as The Empire Strikes Back Uncut that followed, weren't quite as surreal and weird with the styles used to retell those episodes of the sci-fi saga. Meanwhile, Shrek Retold feels like it had a mandate to make Shrek as weird as possible, and it certainly looks like they succeeded.
Honestly, as cool as this project sounds, I'm not sure I can handle something this disjointed and wild for the feature length runtime of Shrek, which clocked in at exactly 90 minutes when it hit theaters back in 2001. Furthermore, I'm not sure who all these names are that the Shrek Retold trailer is throwing at me, but they're likely popular on the YouTube circuit and all the teens and twentysomethings who grew up watching Shrek will likely be stoked to see them tackling one of their favorite childhood movies.
As of now, there's no indication as to when or how Shrek Retold will be released, but as soon as we hear something on that front, we'll be sure to let you know so you can prepare your mind for the madness.