'Bumblebee' International Trailer: No Matter What Happens, Bumblebee Is Adorable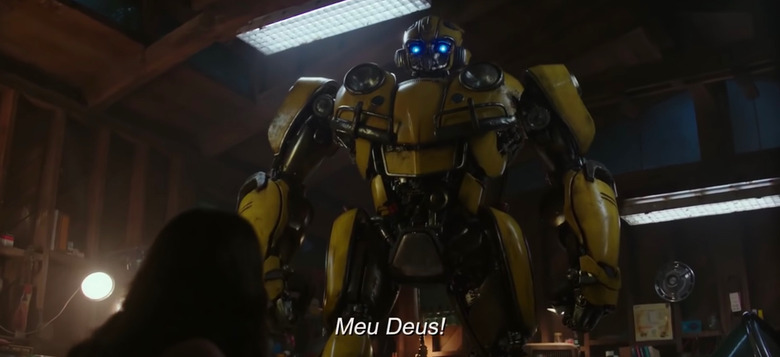 Will Bumblebee succeed where other Transformers movie failed? I have no idea, but I do know that Bumblebee is adorable as hell in this new international trailer. Unlike previous Transformers films, the focus here is on character building, and that just might save this film. Watch the new Bumblebee international trailer below.
Bumblebee International Trailer
There's not a whole lot of new footage in this international Bumblebee trailer, but there are two fun things. One: the caption of "Meu Deus!" appearing when Hailee Steinfeld first sees Bumblebee. And two: the announcement at the end yelling "BUMBLE BEE!" Beyond that, the focus of this trailer is on how innocent and adorbs Bumblebee is. The scene at the beginning where he sticks his head in the sand is both cute and funny, and if the whole film can match that, Bumblebee might be something special.
Sure, there will still be plenty of explosions happening in Bumblebee. But this prequel is clearly focusing on character development – both human and robot – more than any previous entry in the series. I'm not shy about admitting I don't like the Transformers movies. But I might give this one a shot. Michael Bay is gone, replaced by Kubo and the Two Strings director Travis Knight. Knight looks to be going for an Amblin/Iron Giant vibe here, and that's promising. The plot – in which a young individual has to hide an alien from government forces – is taken directly from E.T. (and also Mac and Me, but let's not go there).
"I grew up on Amblin movies," said Bumblebee screenwriter Christina Hodson. "I always loved the way those movies did kind of feel timeless. They felt like they could exist anytime, anyone in this small town that felt almost like a bubble. And the 80's felt like a natural fit."
In addition to Hailee Steinfeld, Bumblebee stars John Cena, Jorge Lendeborg Jr., John Ortiz, Jason Drucker, Pamela Adlon, and the voices of Angela Bassett, Justin Theroux, David Sobolov, and Jess Harnell as various Decepticons. And of course, Peter Cullen is back once again as the voice of Optimus Prime.
Bumblebee opens December 21, 2018.
On the run in the year 1987, Bumblebee the Autobot seeks refuge in a junkyard in a small California beach town. Charlie, on the brink of turning 18 years old and trying to find her place in the world, soon discovers the battle-scarred and broken Bumblebee. When Charlie revives him, she quickly learn

s that this is no ordinary yellow Volkswagen.