Stan Lee's Final Video Expresses Love For All His Fans As 'The Avengers' Honor The Marvel Legend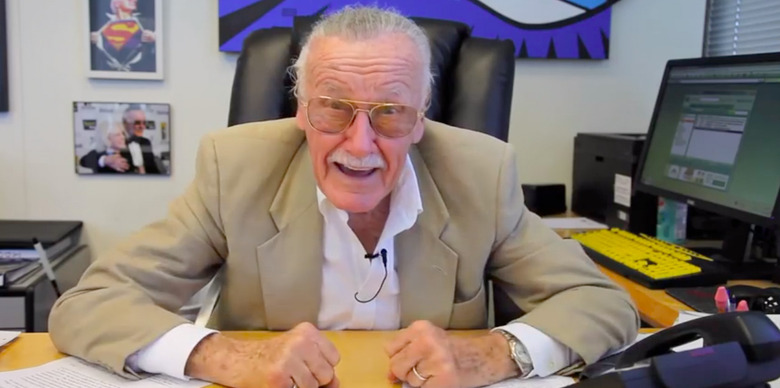 Ever since the passing of Stan Lee, tributes have been pouring out all over the place from fans, collaborators, and those who knew the Marvel Comics legend best. But that love went both ways, and a new video of Stan Lee recently surfaced through his official Twitter account that showed how much the co-creator of Spider-Man, Fantastic Four, X-Men, and more cared for all of his fans. This is a candid moment caught in between shooting official video, and it's such a touching tribute to fans of Stan Lee.
Final Stan Lee Video Honoring Fans
So many wonderful moments with Stan came spontaneously. As we were setting up the camera one day, he casually started talking about his fans. We know how much Stan meant to you, and we thought it would be nice for you to hear how much your support meant to him. pic.twitter.com/WTX8U1afLm

— Stan Lee (@TheRealStanLee) November 14, 2018
This wasn't the last video Lee created before his death, but as you can see, POW Entertainment posted it through his official Twitter account this week. If for some reason you can't watch the video or hear the audio right now, here's what he said:
"It's an equal love-fest. I love my fans. I cannot tell you how much I love my fans. Sometimes, at night, when I'm sitting here, and I'm thinking, 'Oh, what's it all about?,' and then I get a letter from a fan, or I read something, or I see something, or I remember something, and I realize, it's so lucky to have fans — fans who really care about you. And that's the reason I care so much about the fans, because they make me feel so great, and there's something, if you think about it, is just so wonderful about somebody caring about you as I care about them, whom you've never met, who may live in another part of the world. But they care, and you have something in common, and occasionally you contact each other. This business of fans, I think is terrific, and I love 'em all."
You needn't look any further than the outpouring of love and sadness when news of Stan Lee's death hit the web to know how much fans loved what this comic book icon gave them. There was a mutual respect and appreciation between the two, and it's nice to see that even at 95, Lee wasn't tired of fans expressing their love and appreciation for him. Sometimes fame can change a person and they forget how much their work can mean to people. But Lee seems to have never lost sight of what was most important.
It's not just the everyday fans who respected the hell out of Stan Lee, either. Those who have been lucky enough to bring his characters to life on the big screen share the same respect and admiration. In fact, the original cast of The Avengers took out a full page ad in the print edition of The Hollywood Reporter this week to honor the late comic creator:
Rest in peace, Stan Lee. You'll be missed, but your work will continue to inspire fans for generations to come.