'Silicon Valley' Season 6 Production Delayed, Unclear If It's The Final Season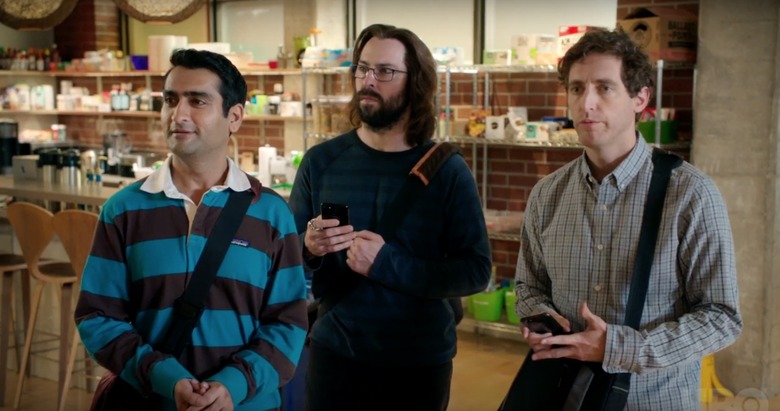 HBO's tech comedy series Silicon Valley was already renewed for a sixth season back in April this year. However, the show was renewed alongside the freshman comedy series Barry, and both shows are executive produced by Alec Berg. That seems to have created a bit of a scheduling challenge, because now production on the Silicon Valley season 6 is being delayed until summer 2019 in order to allow Berg to finish up his work on the second season of Barry first. But there might be more to this story behind the scenes.
TV Line has the latest on Silicon Valley season 6, and while HBO's reasoning for the delay in production on the next season of the series starring Thomas Middleditch, Martin Starr, Kumail Nanjiani, Zach Woods and Amanda Crew makes sense, there might be another reason for the delay as well. Apparently a decision hasn't been made behind the scenes as to whether or not the sixth season will be the show's last, and that could be crucial in determining how the show's story will play out.
There have been hints that Silicon Valley could be coming to an end soon. After the end of the fourth season, the one where T.J. Miller left the show for good, Berg told TV Line, "I can't say we have any [season] number in mind. But we definitely for the first time are starting to talk about, 'How long do you think this will continue...?' There is no definitive plan [to conclude the series], but we're starting to think that maybe there are less shows left than there are in the can."
And when the executive producer of a show starts saying things like that, it usually means there's not much story left to be told. After all, how many times can the crew keep messing things up and fix it at the last minute? The question is, how do you end a show like Silicon Valley? What could they achieve that all of these characters stories can comfortably and satisfyingly come to an end? Series star Thomas Middleditch has wondered these same things, as he previously said:
"[Maybe] one of the last seasons could be about how they made their billion dollars... but then it's not the underdog story that we've come to know and love. And I think everybody's hesitant about turning it into this show that doesn't live up to the premise we all bought into."
We'll likely be waiting until sometime in 2020 before we know what season six holds and whether it will be the end. So stay tuned to see what happens with Silicon Valley season 6.