'Backtrace' Trailer: Sylvester Stallone Chases A Bank Robber With Amnesia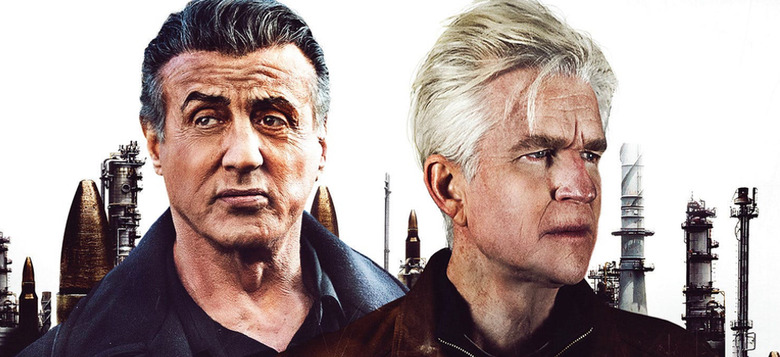 Sylvester Stallone will appear in the highly-anticipated Creed II this month, and then next month, he'll be seen the much-less-anticipated Backtrace. This low-rent thriller finds Stallone playing a cop trying to solve a mystery surrounding a bank robbery gone wrong. The only suspect he has is a man with amnesia (played by Matthew Modine). Complicating matters is a doctor and a patient who want to exploit Modine to find his missing money. Watch the Backtrace trailer below.
Backtrace Trailer 
I never thought I'd see the day where Sylvester Stallone would be second-billed behind The Boy Next Door actor Ryan Guzman, but here we are. Guzman is the lead of this thriller (I guess?), but the focus of this trailer is primarily on Stallone and Matthew Modine. Modine plays a suspect who suffers a brain injury during a heist. The injury leaves him with amnesia and lands him in a prison psychiatric ward, which inspires a fellow psychiatric ward inmate (Guzman) and a doctor (Meadow Williams) to bust him out with the hopes of tracking down the missing loot. Hot on their trail is a cop (Stallone) and an FBI agent (Christopher McDonald).
This trailer makes Backtrace look like a cross between the Heat knock-off Den of Thieves and the mostly forgotten 2007 Scott Frank thriller The Lookout. Stallone is still capable of turning in a good performance (Creed II proves that), and it's always nice to see Modine pop-up from time to time. Still, I'm not so sure about this. It looks like a Z-grade movie that got lucky by landing a few recognizable names. But maybe it'll turn out to be a fun surprise. For all of its derivativeness, I enjoyed the trashy mayhem of the aforementioned Den of Thieves. If Backtrace can capture some of that, it could be worth watching.
Backtrace opens in theaters and on demand by Lionsgate Premiere on December 14, 2018.
After suffering a brain injury from a bank heist gone wrong, MacDonald (Matthew Modine) develops amnesia and is put into a prison psychiatric ward. Following his seventh year in evaluation, he is coerced by an inmate and a ward doctor (Ryan Guzman & Meadow Williams) to break out of prison and injected with a serum that forces him to relive the life he's forgotten. MacDonald must now elude a local detective (Sylvester Stallone), a toughened FBI agent (Christopher McDonald) and the drug's dangerous side effects in order to recover the stolen money all while confronting his past.