'A Star Is Born' Could Have Starred Real Musician Jack White As Jackson Maine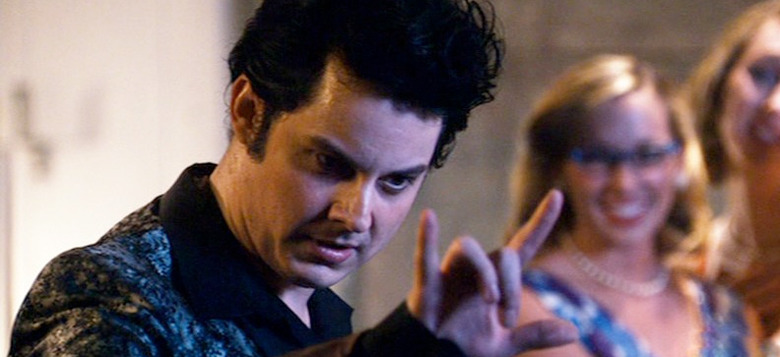 It's hard to imagine the remake of A Star Is Born without the gruff voice of Bradley Cooper behind the country rocker Jackson Maine, especially when it comes to the memorable line, "I just wanted to take another look at you." But early in the development of the movie, the actor, who also directed the film, didn't have himself in the lead role. Instead, Bradley Cooper had his eyes on a real musician to take the role.
In a recent profile of Lady Gaga, an entirely different version of the movie is nonchalantly mentioned. Before Lady Gaga came on to star in the movie, Bradley Cooper wanted singer and songwriter Jack White in A Star Is Born. So why didn't it happen?
In a brief line, the Variety profile on Lady Gaga reveals that Jack White was approached to take the lead role in A Star Is Born, but Warner Bros. Pictures wasn't having it. That's not surprising since Jack White isn't exactly known for his acting abilities, and the film was already bringing the mostly untested dramatic acting chops of Lady Gaga onto the big screen in her first lead role. But one can't help but imagine what it would have been like to have Jack White in this film.
While Jack White may not be known for his acting, he does have two big screen credits to his name, each wildly different from the other. First, he played a troubadour in the period drama Cold Mountain in 2003. But his more famous bit part came a few years later when he masterfully and hilariously played Elvis Presley in Walk Hard: The Dewey Cox Story, acting entirely unlike himself. Check it out:
Jack White is so great in what amounts to a cameo, feeling like a natural comedian. But of course, drama is an entirely different animal, and A Star Is Born may not have been quite as acclaimed with someone like Jack White in the lead role. Then again, it could have been a breakthrough performance for the musician and it might have opened up all sorts of doors for him. Sadly, we'll never know. But at least we now know that Bradley Cooper has a great singing voice, and he became a professional guitarist and piano player to prepare for this movie.
However, this makes me wonder if Jack White has an invested interest in having an acting career, but studios simply aren't willing to take a chance on him on roles that would help make that career possible. Either way, he seems to be happy just doing what he does best in the music business, and as a fan of his incredible work, that's just fine with me. But I'm also hoping that the rumored A Star Is Born director's cut has some kind of dream sequence with karate-chopping Elvis.