'Wonder Park' Trailer: An Imaginary Theme Park Comes To Life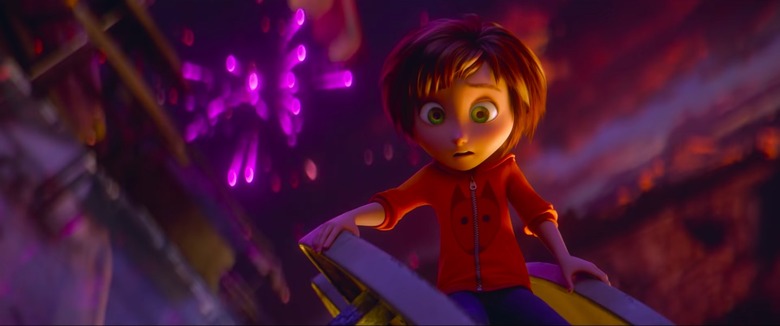 Sometimes there's no better theme park than the one that exists in our imagination. Paramount Picture's new animated movie Wonder Park takes that sentiment and runs with it. It's about an imaginary park that comes to life! There's a talking bear! And something called a "chimpanzombie!" The new Wonder Park trailer delivers everything a magic-loving theme park enthusiast (probably) wants in an animated movie.
Wonder Park Trailer
Originally titled Amusement Park, Wonder Park is a new animated adventure following a young orphan named June who stumbles upon the magical, hidden theme park of Wonderland, which looks eerily like the theme park she had invented with her mom. Why this movie is not called Wonderland is beyond me, but maybe Paramount doesn't want this film to be confused with a certain Lewis Carroll novel.
This film has gone through some other changes since the first teaser trailer was released this summer. Wonder Park's original director Dylan Brown was removed from the production following allegations of "inappropriate and unwanted conduct." The film was also reportedly supposed to be set in the '90s, but judging by the selfie taken by June in the trailer, that's also gone out the window. But one thing that is still set to happen is a television series based on Wonder Park that will debut next year on Nickelodeon — the third animated film from Nickelodeon Movies to spawn an animated series on the network after Jimmy Neutron and Barnyard. So get ready to enjoy this pseudo-Nickelodeon show pilot when it comes to theaters next year.
The film also features the voices of Jennifer Garner (13 Going on 30), Matthew Broderick(The Lion King), John Oliver (Last Week Tonight), Mila Kunis (Forgetting Sarah Marshall), Kenan Thompson(Saturday Night Live), Ken Jeong (The Hangover), Norbert Leo Butz (Dan in Real Life), and Ken Hudson Campbellas a narcoleptic bear named Boomer.
Here is the official synopsis for Wonder Park:
Wonder Park tells the story of a magnificent amusement park where the imagination of a wildly creative girl named June comes alive.
Wonder Park rides into theaters on March 15, 2019.Correction: This article incorrectly stated that David Feiss replaced Dylan Brown as the director for Wonder Park.