'A Series Of Unfortunate Events' Season 3 Trailer Announces The End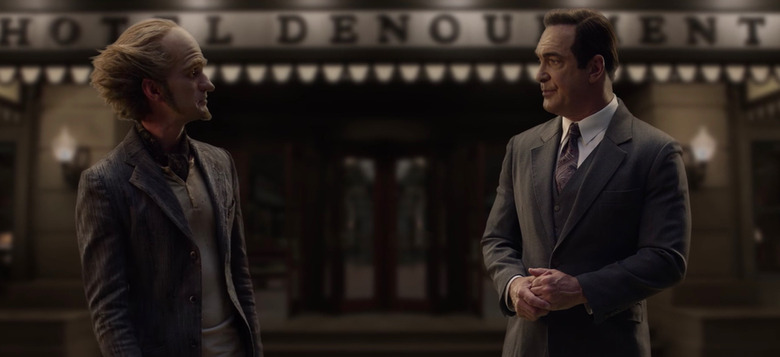 A Series of Unfortunate Events is returning to Netflix for a final season. The series, adapted from Lemony Snicket's marvelously macabre books, will once again pit the Baudelaire orphans against the overly theatrical Count Olaf. The final season promises to bring everything to a possibly unfortunate conclusion at the start of the new year. Watch the A Series of Unfortunate Events season 3 trailer below.
A Series of Unfortunate Events Season 3 Trailer
I have to confess that I forgot a new (and final) season was on the way. I'm a huge fan of the books, and I found the first season to be mostly enjoyable. But I skipped the second season entirely, and the show slipped from my memory. This trailer is here to remind me, and anyone else who might be in the same boat, that it's time to catch up. This trailer has Patrick Warburton's Lemony Snicket and Neil Patrick Harris as Count Olaf both hyping up the new season while giving a swift recap of everything that's come before. If you've stuck with the show this long, you might as well see it through until the end. As usual, you can likely expect a host of guest stars to pop up in extended cameos.
This final season will adapt the four final books in the series: the events from The Slippery Slope, The Grim Grotto and The Penultimate Peril will unfold across two episodes each, and the final book, The End will cap off the series with a longer final episode. In addition to Harris and Warburton, Malina Weissman, Louis Hynes, Presley Smith, and K. Todd Freeman are returning as well.
A Series of Unfortunate Events season 3 arrives on January 1, 2019 on Netflix.
Based on the internationally best selling series of books by Lemony Snicket (aka Daniel Handler), season two of the Netflix original series plunges further into the epic world of this darkly comedic mystery. Executive produced by Emmy Award-winner Barry Sonnenfeld and Daniel Handler – the new season of A Series of Unfortunate Events consists of ten cinematic one-hour episodes, and premieres worldwide spring 2018, exclusively on Netflix. Starring Emmy and Tony Award-winner Neil Patrick Harris, A Series of Unfortunate Events recounts the tragic tale of the Baudelaire orphans – Violet, Klaus, and Sunny – and their extraordinary encounters with the devious Count Olaf who will stop at nothing to get his hands on their inheritance. Foiling his many dastardly plans and disguises, the young siblings discover clues to their parents' mysterious death, links to a covert organization, and begin to unlock long-held family secrets.