'Roma' Trailer: Alfonso Cuarón's Latest Film Looks Absolutely Gorgeous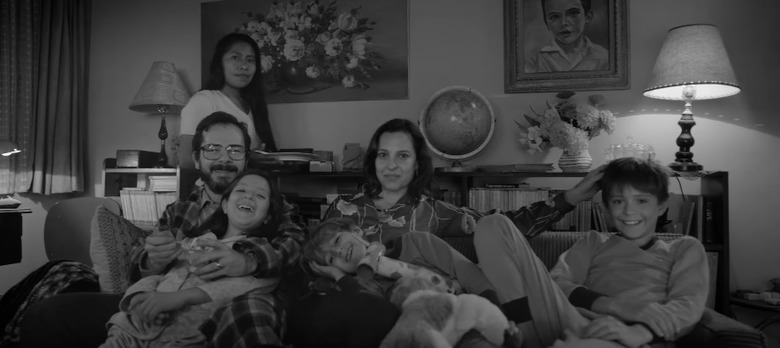 One of the biggest awards contenders this year is likely to be Roma, the latest film from Gravity and Children of Men director Alfonso Cuarón, but it's nothing like either of those two films. Instead, the filmmaker has crafted a family drama that many critics are calling a masterpiece. You'll see why in the new Roma trailer that was just released by Netflix.
Roma Trailer
Even though this is a drama focusing on a family caught up in the political turmoil of Mexico City, the vivid imagery in this movie demands that it be seen on the biggest screen possible. And that's exactly what our own Siddhant Adlakha said in his review from the New York Film Festival last month. In his review, he wrote:
"Even in black & white, the film's rich visual texture (owed to an insistence on deep focus and wide lenses, even in moments of intimate drama, capturing as much detail as possible on the ALEXA 65) creates a living, breathing tapestry. It connects the characters to the world around them as off-screen sounds, from voices, to birds, to dogs, to the hustle & bustle of nearby markets echo from the rear speakers, connecting us to the world, and the characters, too."
Meanwhile, Chris Evangelista caught the film at TIFF and is one of several critics who call the film a "masterpiece," and he also noted: "The most personal film yet from the director of Gravity and Children of Men, Roma has Cuarón drawing on his own childhood to tell the tale of a family in 1970s Mexico City. What a marvel this movie is; what pure, cinematic delight."
If all the reviews from film festivals over the past couple of months aren't enough to get you excited about Roma, this final trailer hopefully did the trick. Thankfully, Netflix is sending this one out to theaters before it arrives on the streaming service in December. However, don't go looking for it in an Alamo Drafthouse theater.
A vivid portrayal of domestic strife and social hierarchy amidst political turmoil, ROMA follows a young domestic worker Cleo (Yalitza Aparicio) from Mixteco heritage descent and her co-worker Adela (Nancy García), also Mixteca, who work for a small family in the middle-class neighborhood of Roma. Mother of four, Sofia (Marina de Tavira), copes with the extended absence of her husband, Cleo faces her own devastating news that threatens to distract her from caring for Sofia's children, whom she loves as her own. While trying to construct a new sense of love and solidarity in a context of a social hierarchy where class and race are perversely intertwined, Cleo and Sofia quietly wrestle with changes infiltrating the family home in a country facing confrontation between a government-backed militia and student demonstrators.
Roma plays limited theaters on November 21, 2018 before hitting Netflix on December 14, 2018.