'Toy Story 4' Teaser Trailer "Reaction" Introduces Ducky And Bunny, Played By Key And Peele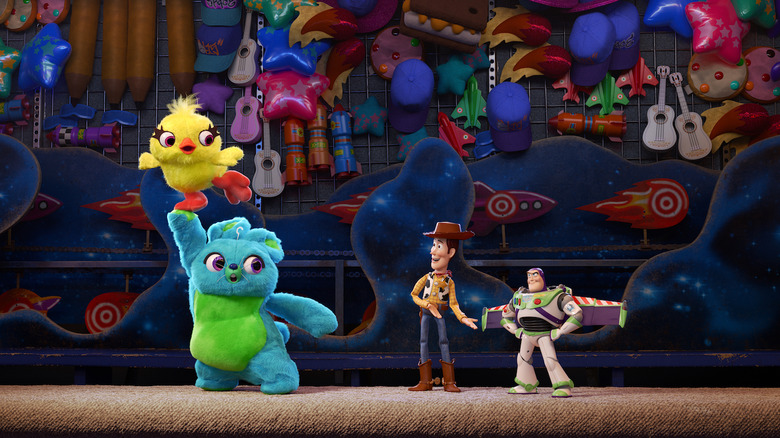 If you're still mourning the end of Comedy Central's brilliant sketch comedy series Key and Peele, you're in luck. Toy Story 4, of all movies, has got you covered. Though they've gone their separate ways to puruse acting and directing careers respectively, Keegan Michael Key and Jordan Peele have a long-awaited reunion in the upcoming Toy Story sequel as...a stuffed duck and bunny? Aptly named Ducky and Bunny, the two give a fourth wall-breaking "reaction" to the exciting Toy Story 4 teaser that was dropped yesterday in classic Key and Peele fashion. Think The Valets bit, but with carnival toys.
Toy Story 4 Teaser Trailer
Meet Ducky and Bunny, the newest toys to meet Woody, Buzz, and the gang in Toy Story 4. Apart from being super cute and fluffy, Ducky and Bunny seem to hold special powers — they imitate exactly the banter and rapport of comedy duo Key and Peele, and they seem to know they're in a movie. At least, in this "Teaser Reaction," they know they're in a movie. The pair chatter about the first Toy Story 4 teaser released yesterday before they run into Woody (Tom Hanks) and Buzz (Tim Allen) in the flesh, in a video that can only be described as another Toy Story 4 teaser trailer. But is it really a teaser trailer if it's a teaser reaction? I don't know, this is too meta for me! Existential crises and fourth wall-breaking comedians...Toy Story 4 is definitely going to be the most cerebral of the Toy Story films.
But these characters are going to do more than offer a fourth wall-breaking reaction to the trailer. Ducky and Bunny actually appear in the movie too, as "two carnival prizes who are eager to be won," Pixar describes. They meet Woody and his friends when they're visiting the carnival, after which Ducky and Bunny "find themselves on an unexpected adventure with a group of toys who have no idea what it feels like to be tacked to a prize wall." Ducky and Bunny even have their own character posters alongside Buzz and the latest "toy" addition, Forky:
Here is the official synopsis for Toy Story 4:
Woody has always been confident about his place in the world and that his priority is taking care of his kid, whether that's Andy or Bonnie. But when Bonnie adds a reluctant new toy called "Forky" to her room, a road trip adventure alongside old and new friends will show Woody how big the world can be for a toy.
Toy Story 4 opens in U.S. theaters on June 21, 2019.