New Blu-Ray Releases: 'BlacKkKlansman', 'Christopher Robin', 'Blindspotting', 'The Meg'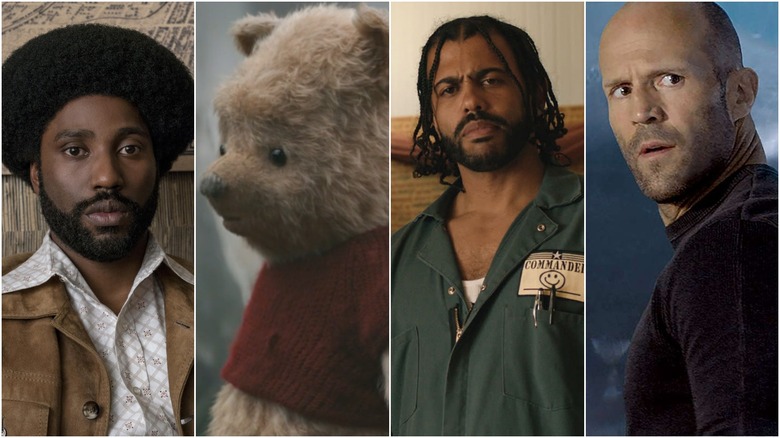 (Welcome to Not Dead Yet, a feature dedicated to new Blu-ray releases and what special features you should be excited about. Because yes, some of us still like to own physical copies of our movies.)
Remember, kids: heroes live forever, but physical media never dies. This week's Blu-ray round-up has Spike Lee's brilliant and infuriating BlacKkKlansman, the melancholy Disney film Christopher Robin, the cinematic firecracker that is Blindspotting, and Jason Statham fighting a big CGI shark in The Meg. Sure, streaming is great – but you just can't beat the experience of physical media.
Here are the new Blu-ray releases and their special features you should check out this week and beyond.
BlacKkKlansman
Spike Lee has never gone out of style, but with BlacKkKlansman, he crafts one of his most urgent, most timely, and most compelling movies yet. Here, Lee is telling the unbelievably true story of Ron Stallworth (John David Washington), a black cop who managed to infiltrate the KKK in Colorado Springs in the '70s. Stallworth would converse with members of the hate group over the phone, and any time an in-person meeting was required, Stallworth's white partner Flip (Adam Driver) would go under the guise of being Ron Stallworth. This story sounds too wild to be true, but it really did happen (although Lee and screenwriters Charlie Wachtel, David Rabinowitz, Kevin Willmott take some liberties with the truth). John David Washington (son of Denzel) is a star in the making as the driven Ron, and Adam Driver gives one of his very best performances as Ron's partner in deception. Not everything works: a subplot in which Ron woos a black rights activist (Laura Harrier) rings false – which makes sense, since it was made up entirely for the film. But when BlackKkKlansman is working, it's working exceptionally well. One of the film's greatest strengths is the way it leans into the humor – there's a lot of funny stuff going on here. But this is not a comedy, and Lee brings it home with a conclusion that plays like a punch to the gut. It's an infuriating rebuke on the racist Trump presidency, and a depressing reminder that things haven't changed since the '70s. In fact, they've gotten worse.
Special Features to Note:Sadly, the special features here are a little lax – but BlacKkKlansman is absolutely worth owning. The only real feature is a making-of featurette titled "A Spike Lee Joint." Here, we learn that at one point, producer Jordan Peele was considering directing the film, but ultimately handed it over to Spike Lee. According to Peele, he sent the script to Lee, and a few days later, Lee called back and made it clear he understood the script better than Peele did. There are also interviews with the real Ron Stallworth in which he discusses the real-life events that inspired the film. Best of all, though, we get to see Lee working on set, shooting various scenes. This isn't what I'd call an "in-depth" featurette, but it's a nice glimpse into Lee's filmmaking methods. 
Special Features Include: 
A Spike Lee Joint 
– Producer Jordan Peele, cast and film subject Ron Stallworth discuss the unique experience of working with iconic director Spike Lee.
BlacKkKlansman Extended Trailer Featuring Prince's "Mary Don't You Weep"
Christopher Robin
Christopher Robin is a rather melancholy update on the tale of Winnie-the-Pooh, and I have no doubt the seriousness of it all turned some people off – there's a scene where Christopher Robin fights in World War II, for crying out loud. But I found this rather somber fairy tale charming, and sweet. The story seems lifted straight out of Hook: Christopher Robin (Ewan McGregor) grows up and forgets all about the Hundred Acre Wood and all his fantastical furry friends. He becomes a workaholic oblivious to his family, and loses sight of what made his childhood so magical. Meanwhile, Pooh and the gang carry on, but Pooh has always hoped Christopher would return. As fate would have it, Pooh comes into our world, and reunites with the adult Christopher. There's almost too much going on here – a subplot involving Christopher trying to save his co-workers from being fired could've been cut entirely. But beneath the mayhem is a lovely story about friendship, and kindness. Jim Cummings' voice work as the carefree Pooh is an absolute delight.
Special Features to Note:A slew of short but sweet featurettes are present here, all about the making of the film. We learn that effort was made to make the characters of the Hundred Acre Wood look like real toys – worn down from sitting outside for so long. I've seen several people complain about this, but it's fitting. After all, the characters were inspired by real stuffed animals, so returning them to their stuffed animal roots is only right. We also see that real puppets were on set for filming, and later replaced with CGI. While I understand why this was done, I wish puppetry had been used for the entire film. It would've added an extra level of realism to the proceedings. The best featurette present on the disc focuses on Jim Cummings and his voice work as Pooh. Cummings seems like a wonderful individual, and the ways he describes Pooh's voice – like "leaves skittering across a sidewalk" and "filtering in some sand and then whimsy" – is charming as hell. 
Special Features Include: 
In Which ... A Movie Is Made for Pooh – Filmmakers and cast share their passion for this story in a behind-the-scenes look at the making of the movie.
In Which ... Pooh Finds His Voice – Discover what it's like to voice Winnie the Pooh, from voice actors Sterling Holloway to Jim Cummings.
In Which ... Pooh and Walt Become Friends – How did Walt Disney and Pooh meet? Take a journey through time to explore the legacy of Walt's first encounter with Pooh.
In Which ... Pooh and Friends Come to Life – See how Winnie the Pooh and Friends were brought to life as walking and talking stuffed animals in this magical live-action world.
Blindspotting
Wow! I don't know where the heck Carlos López Estrada's Blindspotting came from, but here is one of the best movies of the year. A cinematic firecracker, Blindspotting explodes off the screen, bustling with life and energy. It's an emotional, raw and wholly unique film, made all the better by the lead performance of Daveed Diggs. Diggs also co-wrote the script with his co-star Rafael Casal, and the two clearly have a palpable chemistry with each other. Diggs is Collin, a convicted felon only days away from ending his probation. All he has to do is stay out of trouble. But that's easier said than done, because Collin's best friend Miles (Casal) is a wild card – a violent, volatile hot head who always seems to get Collin in trouble while simultaneously not getting in trouble himself. To make matters worse, Collin witnesses a cop shoot and kill a black man on the streets of Oakland. The murder haunts him, and he finds himself constantly on edge. Blindspotting builds and builds, culminating in a powerful climax that will leave you shaken. Diggs is a revelation here – put him in as many movies as possible, immediately.
Special Features to Note:
A Making Blindspotting featurette kicks-off with a summation of what the film is: two characters realizing the place they thought they knew is changing. At the same time, the movie is tackling important social issues. Producer Jess Calder talks about how she had seen Rafael Casal spoken-word, verse-driven videos, and reached out to him and asked if he wanted to write a movie with verse-driven scenes. Casal and Daveed Diggs were long friends, and the two came together to write the movie. The Oscar Grant shooting – which inspired Fruitvale Station – and Oakland's reaction to it played a big part in crafting Blindspotting. Carlos López Estrada had directed music videos for Diggs, and was brought on board because he understood the world, and the language, that Casal and Diggs were trying to create. In addition to this featurette, theres also a video diary from director Estrada, giving us a rough, unpolished look at the behind-the-scenes work on the film, including rehearsals.
Special Features Include:
Deleted Scenes
"Straight from the Town: Making Blindspotting" Featurette
"Carlos López Estrada: A Director's Featurette
Audio Commentary with Director Carlos López Estrada
Audio Commentary with Writers/Actors Daveed Diggs and Rafael Casal
The Meg
The Meg is critic-proof, in that this movie was always going to be dumb, and it was always going to attract a crowd. How could it not? It's about Jason Statham battling a giant prehistoric shark! While there's plenty of room for smart monster movies – see Jaws or Jurassic Park – Hollywood doesn't really make those type of films anymore. Instead, they want easily digestible action that will play well both domestically and overseas. And that's what The Meg is. Is it good? Not really. Is it watchable? Yes. Statham plays a rescue diver who gets called in to help save a team trapped at the bottom of the sea. The team has been trapped by a 75-foot megalodon shark – a shark Statham's character has had a run-in with once before. From there, the shark goes on the rampage, chomping its way through the seas. The film's PG-13 rating is unfortunate – some gore would've made The Meg a bit more memorable. But that also probably would've hurt the box office tally. And we can't have that, can we?
Special Features to Note:There are two features here. "Making the Meg" is your standard making-of featurette, in which almost everyone involved with the production talks about how awesome Jason Statham is. Can you blame them?  "I just want to read a script I haven't read before," director John Turtletaub says. "It was new for me – it was going to be a challenge." Turtletaub goes on to add: "You know what's really fun? Watching Jason Statham!" He's right. Lorenzo di Bonaventura comments that Statham isn't an "action hero" in this film, he's an "adventure hero" – I'll let you decide what the difference is, because di Bonaventura isn't really clear. Then there's "Creating the Beast", which focuses on the creation of the giant shark. Turtletaub is honest enough to point out that much of imagery in the film wasn't even invented by him – it was all the art department. For instance, the shot in all the trailers featuring the shark chomping down on the huge glass window while the little girl looks on was created by the art department before the film was even made. He just simply recreated it on screen. As for the shark itself, the effects team wanted to make the fish terrifying, but also graceful. They also didn't want to make it look like a Great White – the shark so many movie audiences are used to. To differentiate from the Great White, the Meg was given more gills than a shark would normally have, and bumpy, gnarly, brownish skin. In the end, though, you have to admit: it kind of looks like a Great White. 
Special Features Include:
Chomp On This: The Making Of The Meg
Creating The Beast