'Five Nights At Freddy's' Movie Delayed As Game Creator Rewrites The Script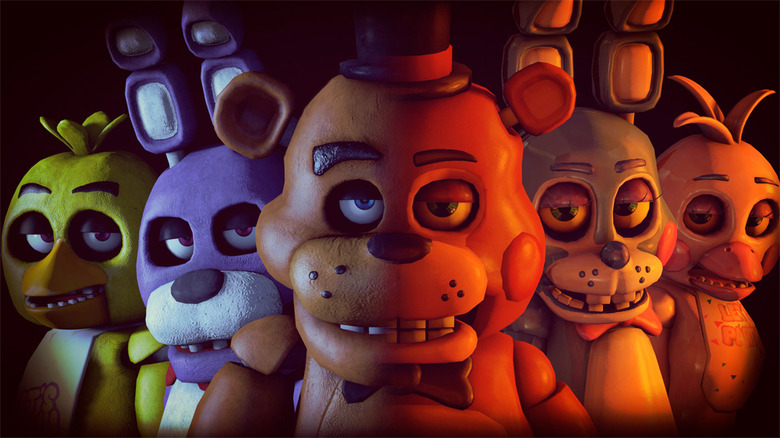 Earlier this year, word came out that Blumhouse Productions was set to make a Five Nights at Freddy's movie based on the popular video game series, with Chris Columbus (Home Alone, Mrs. Doubtfire) lined up to direct. The project was at one point aiming for a 2020 release date, but now Scott Cawthon, the creator of the games and producer of the film, says that the Five Nights at Freddy's movie has been delayed because it's getting a total overhaul.
Five Nights at Freddy's became a sensation back in 2014; gamers played as a security guard at a Chuck E. Cheese-style pizza place where the animatronic creatures came to life and tried to kill you. Since then, the franchise has grown to encompass six games, three novels, a guide book, and more. A movie adaptation was inevitable.
But Cawthon jumped on Steam to offer an update on the future of the franchise, and relayed the news that the movie version has been delayed (via Polygon):
"I had a script written. Jason [Blum] liked it, and Chris Columbus liked it too, but I tossed it. I had a different idea for it, one that I liked better. I take responsibility for this delay; it's my fault...
I'm sticking to what I've always said, either the right movie gets made or no movie gets made. I hate delaying a project that's already seen so many delays, but I have to go with my instincts on what I think will be exciting and interesting, and what I think the fanbase will really want to see. If that means that I have to start over ten more times, then that's what I'm going to do. The good thing is that each attempt gets better and better, in my opinion. So, despite the delays, it's going in the right direction."
In a world in which studios often rush out sub-par final products to hit a pre-announced release date, Cawthon's approach is like a breath of fresh air. You can tell he has real passion for translating his property to the screen the correct way, and he knows that they may not get a chance to continue the story if the first attempt isn't up to snuff.
Speaking of sequels, it sounds like he may have a possible three movie arc in mind. At the very least, the first three movies will cover the same ground as the first three video games:
"One thing that most of you might want to know is that the movie (and sequels I hope) will take place in the universe of FNAF 1-3 only. The games after Five Nights at Freddy's 3 will not exist in the movie universe. Like it or hate it, I felt that this was the best portion of the storyline to really focus in on."
Again, it's great to hear that the filmmakers are taking their time to do this right. I suppose there's also a danger in accidentally waiting so long that a movie version could lose some of its relevance, but here's hoping Cawthon and Columbus can perfect this new version of the script and get this thing into production fast enough where that won't be a factor.