'Watchmen' Actor Tim Blake Nelson Says The HBO Show Is "Way Beyond" A Standard Adaptation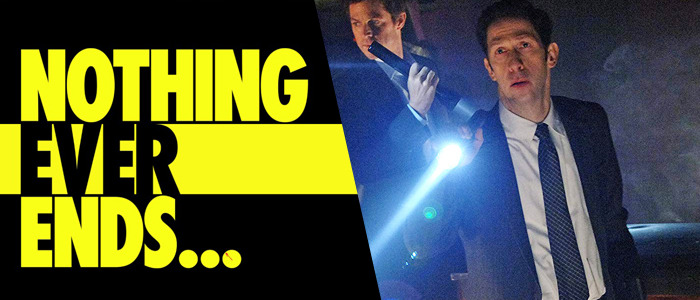 You may know Tim Blake Nelson as the hapless Delmar O'Donnell in the Coen Brothers' Homeric comedy O Brother, Where Art Thou?, but the successful character actor is about to step into a totally different type of world with Damon Lindelof's unconventional new Watchmen TV series.
In a recent interview, Nelson (who also appears as the title character in the Coens' upcoming western anthology The Ballad of Buster Scruggs) says the Watchmen HBO show is "way beyond your run of the mill comic adaptation", shares what the Coens and Lindelof have in common, and explains how his role in the highly-anticipated new show was expanded for him.
Last week, Nelson told Empire that he would be playing a character named Looking Glass, who does not appear in the original comic or Zack Snyder's movie adaptation. Here's how the character was described in a casting breakdown:
"A good looking cop, the native Oklahoman isn't simple as his rural accent makes him appear to be. A top interrogator and behavioral scientist, he may also be a bit of a sociopath."
Speaking with Collider, Nelson revealed that the part of Looking Glass actually evolved into a larger part because of Lindelof's improvisational development style:
"I talked to [Lindelof] on the phone, and it was an evolving process for Watchmen, which in part is what makes Damon so interesting. He, like the Coens, is very much in control, but he also improvises, to a degree, with what he has...I read it and I read my character, and I found him interesting, but one doesn't want to leap into television without knowing where a character is headed. And Damon, frankly, said, 'Well, I'm not sure about this guy and whether there's going to be enough for you, to where you would want to play this role. I'm not sure that having you in this role would be gesturally right, in terms of the casting, with what I have in mind for him. You may be, in a sense, too big of a gun to shoot a fly.'
But then, he started thinking about it and he changed his take on the role. He said, 'You know what, I really would like you to be a part of this. Here's how I wanna enlarge the role. If you'll trust me, then I'd really like you to come on board.' What he had to say was certainly enough, but more importantly, the pilot script and what it seemed like he wanted to address with the show, which is way beyond your run of the mill comic adaptation, really intrigued me."
Damon Lindelof is not trying to remake Watchmen. He's been vocal about how everything that happened in Alan Moore and Dave Gibbons' iconic comic actually happened in the world of his show, which takes place years later and features older versions of some characters we've seen before. (Example: we broke the news that Jeremy Irons is playing an older Ozymandias.)
"We have no desire to 'adapt' the twelve issues Mr. Moore and Mr. Gibbons created thirty years ago," Lindelof said in a lengthy Instagram post. "Those issues are sacred ground and will not be retread nor recreated nor reproduced nor rebooted. They will however be remixed....This story will be set in the world its creators painstakingly built...but in the tradition of the work that inspired it, this new story must be original. It has to vibrate with the seismic unpredictability of its own tectonic plates. It must ask new questions and explore the world through a fresh lens. Most importantly, it must be contemporary."
Click here for more on Watchmen, or head over to Collider to read the rest of their interview with Nelson, who says the tone of the new show is "absolutely right" and that he hasn't "encountered a false note" yet during filming.
Watchmen is set to arrive on HBO sometime in 2019.