New 'Searching' Easter Egg Videos Reveal More Secrets Hidden In Plain Sight, Including An Alien Invasion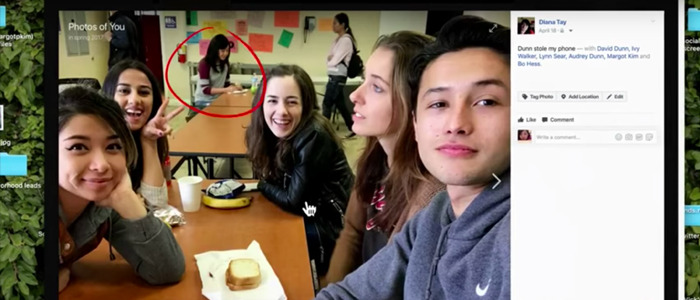 We're quickly approaching the end of the year, and Searching, the thrilling mystery that unfolds across computer screens, remains one of my favorite films of 2018. If you missed the movie during its theatrical run, you have the opportunity to catch it now because it's just arrived on home video.
To celebrate its release, Sony Pictures Entertainment has released a new Searching easter egg video that points us to even more references, nods, and clues about the villain that were hidden in plain sight. Plus, a separate video has surfaced that reveals one of the movie's most random easter eggs: an alien invasion taking place in the background. Did you spot any of these the first time around?
Wait, There Was An Alien Invasion in This Movie?
io9 got their hands on a video that confirms what some Redditors theorized during Searching's theatrical release: an alien invasion plot was subtly weaving through the background of the story the entire time.
Warning
: while the previous video didn't give anything away in relation to the movie's main plot, this next one 
spoils
several key plot points.
Searching Easter Egg Video
We already wrote about how Searching took the unique approach of spoiling its own mystery within the movie itself when John Cho's David Kim character receives an e-mail from the film's producer and co-writer Sev Ohanian that lays out the entire twist. But there are more clues like that which are related to the mystery, like when David signs on to Margot's YouCast account, "Fish_n_Chips" (aka Robbie Abolt) immediately clicks on the stream. The moment is sort of played for laughs in the movie; David clearly doesn't know how live-streaming works, and it seems as if a user was interested in watching someone's stream, but they quickly clicked away because David was just sitting there not doing or saying anything. But remember, at that point in the story, Robbie had already pushed Margot over the cliff, so he was probably very curious to see "her" live-streaming.
There's also a shout-out to the movie Catfish, a wink-wink reference to Rosemary's Baby, some groundwork being laid about people being able to survive in the wild for many days on end, and more. My personal favorite is the inclusion of M. Night Shyamalan movie character names in the photo at the top of this page. Director and co-writer Aneesh Chaganty is a huge Shyamalan fan (watching a Shyamalan film as a kid was what inspired him to become a director), and we already knew about a separate easter egg elsewhere in the film in which Shyamalan was featured: a Facebook news item reads "Filmmaker Meets With Superfan After Surprise Cameo in Film," which seems like a clever way for Chaganty to hopefully charm his cinematic hero into meeting him.
For more on Searching, you can read my review from Sundance or listen to my interview with Chaganty on /Film Daily.
Searching is available on Digital HD right now, and it hits Blu-ray on November 27, 2018.