'Roma' Won't Play In Alamo Drafthouse Theaters Due To Strict Netflix Specifications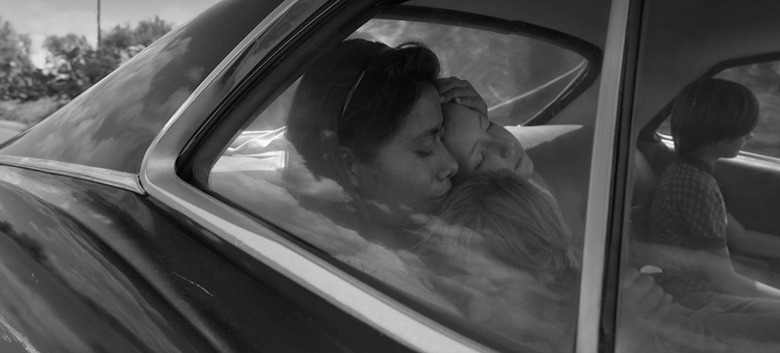 Netflix is changing up their distribution game a bit by giving some of their original movies from prestige filmmakers a theatrical release. One of the key awards season releases from Netflix slated to hit theaters is Alfonso Cuaron's acclaimed drama Roma, but it sounds like at least one signature movie theater chain won't be playing it.
The Alamo Drafthouse is a favorite theater chain among cinephiles, but moviegoers won't be able to see Roma at any Drafthouse theaters, because the chain won't agree to the strict specifications Netflix wants in place in order for the movie to be shown.
Business Insider has word on Alamo Drafthouse not showing Roma after negotiations between Netflix and the theater chain fell apart based on what the streaming service is requiring from the theaters playing the likely awards contender. According to their report, Netflix's terms on how the movie would be released, how often it should play, and how much of the ticket sales would go to the theater were just too much for the Drafthouse to handle.
Netflix and the Drafthouse have been trying to work out a deal for weeks for Roma to play at the location in Brooklyn, New York, one of only four theaters in the city that would allow the streaming service to play the film in 70mm as they want. However, Netflix also wanted to "four-wall" the theater, which means the streaming service would basically be renting out the theater and taking all of the money from ticket sales for themselves. But Drafthouse doesn't four-wall their theaters.
Furthermore, Netflix was also going to require Drafthouse to play Roma in their 70mm auditorium for four straight weeks with no other movies allowed to play in the theater. Since that's their biggest auditorium, having an awards drama in that theater for four weeks during the prime holiday season isn't the best business decision when there are plenty of blockbusters they could play in there that would surely make them more money.
At the end of the day, it was just too much for Drafthouse to tolerate, and reportedly they aren't the only ones who turned Netflix down (though no other chains were specifically named). So now Roma will instead be playing at Manhattan's IFC Center starting on November 21, but it will not be playing in 70mm at that location.
This is sad news for cinephiles who love the Alamo Drafthouse, and it's also disconcerting news for the future of Netflix theatrical releases. If this is now stingy Netflix is going to be with their theatrical releases, smaller theater chains aren't going to be easily willing to work with Netflix. That's bad new for us because it might not be easy to see these kinds of films on the big screen where they belong.