That 'ALF' Reboot Is No Longer Happening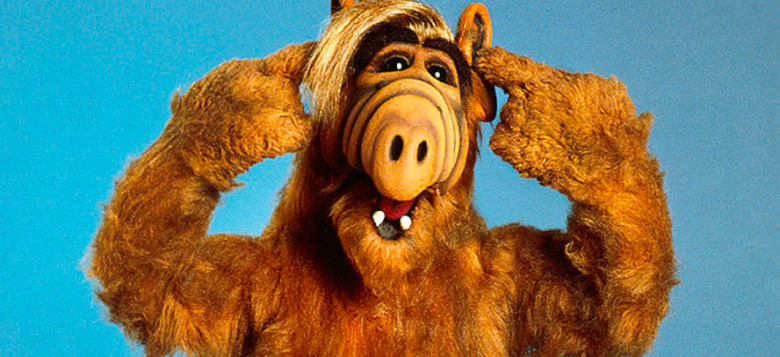 Sorry, everyone. ALF is dead. The reboot, that is. The actual ALF is a puppet, so he was never alive to begin with. Earlier this year, we learned that an ALF reboot would bring everyone's favorite cat-eating alien back to the boob tube, but apparently, that idea has been nixed. Perhaps the powers that be had a meeting and realized that the earth would still continue to turn even if we didn't have an ALF reboot.
ALF may be back in pog form, but he won't return to TV. At least, that's what TV Line says. In a round-up of various TV news, the site states that the proposed reboot is (probably) dead: "Cats far and wide can breathe a sigh of relief: I'm hearing the proposed reboot is not moving forward at this time after failing to attract a suitor." In other words, unlike the Tanner family, no one wanted to offer ALF a home.
The original ALF ran on NBC from 1986 through 1990, and focused on Gordon Shumway, a phallic-nosed alien who crashed on earth and became part of the Tanner family. The Tanners struggled to keep Gordon, nicknamed ALF for Alien Life Form, a secret, while also struggling to keep the hairy puppet creature from eating the family cat. The show was a hit for a while, and ALF is still part of the pop-culture zeitgeist to this day – albeit in an ironic way. The character even popped up on an episode of Mr. Robot.
Eventually, though, ratings sagged,  and the series was cancelled – ending on a bit of a down-note, with ALF captured by the US Air Force while attempting to leave Earth. Rather than have ALF end on a completely depressing note, a made-for-TV movie – Project ALF – was soon released, which showed what happened to ALF after the ending of the series. The movie didn't go over too well, though. In 2012, word came that Sony was planning a live-action/CGI-hybrid ALF movie, with ALF's voice actor Paul Fusco returning to bring the creature back to life. The film failed to get off the ground, though – and that's probably for the best.
TV reboots are all the rage now, and some of them – like Roseanne (which eventually morphed into The Conners) – have been hits. But it's okay to let things die out, and I have serious doubts an ALF reboot would add anything worthwhile to the ALF mythos, such as it is. I think we dodged a bullet here. The closest we'll get to an ALF reboot is probably this Delta safety video.