'Cam' Trailer: What Happens When An Internet Cam Girl Gets Replaced...By Herself?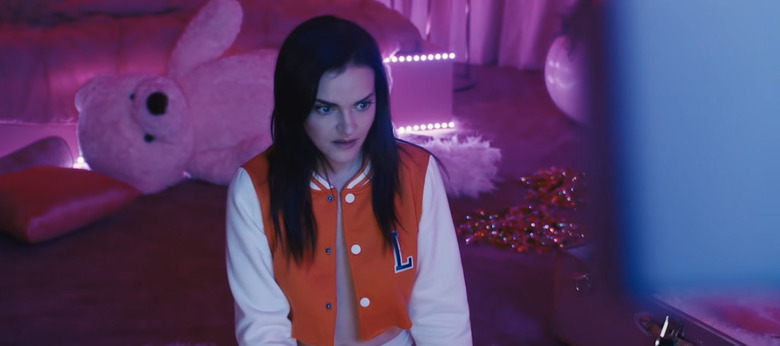 In this day and age, you can get anything and everything online, especially when it comes to pornography. There are even sites where you can watch guys and girls live on webcam and pay money to get them to perform certain activities, sometimes even those that are non-sexual. But one cam girl is about to find out what happens when the world of social networking creepily turns on her just as she's finding online fame in the Netflix original thriller Cam.
Watch the Cam trailer below.
Cam Trailer
Taking a cue from sites like Chaturbate and CamSoda, this new thriller finds a cam girl named Alice (Madeline Brewer) suddenly replaced on her site of choice by a girl who looks and sounds exactly like her. But it's not her. Somehow, her identity has been stolen, and it's throwing her entire life and financial flow into upheaval, not to mention driving her positively crazy.
Our own Marisa Mirabal caught the film at Fantastic Fest earlier this year, and she wrote, "While the twists are ample, the film's ending results in a fairly cursory climax void of definitive resolution and depth. However, Cam is a multi-layered existential thriller with captivating pacing and unique experimental storytelling."
Having seen Cam myself, my feelings on the ending are the same. But that doesn't stop the rest of the movie from being suspenseful and thrilling, especially with such a solid performance from Madeline Brewer in the lead, as well as her mysterious online doppelganger.
Cam is directed by Daniel Goldhaber and written and produced by Isa Mazzei. It hits Netflix on November 16, 2018.
Cam stars the revelatory Madeline Brewer (Orange is the New Black, The Handmaid's Tale) as Alice, a rising young star in webcam pornography. Alice wants nothing more than to break the top ten ranking of camgirls in her network, concocting outrageous and original narratives for each of her live shows to slowly climb in popularity and prestige. But Alice has three rules: she doesn't do public shows, she doesn't fake her orgasms, and she doesn't mislead her "Johns" with promises of love or in-person affection. Instead, she succeeds through sheer willpower and infectious optimism.
It's impossible not to be charmed by Alice, who despite her risqué career path maintains an innocent worldview, close relationship with her mother and younger brother, and supportive network of camgirl friends. She's effervescent and warm and full of ambition — sex work simply seems like the easiest way to break away from the the small-town fate those around her have succumbed to. But one day, Alice wakes to find another girl who looks just like her has commandeered her cam channel and username, and this girl has no rules or boundaries. Alice wants nothing more than to take back her page and her life before it's too late to save either.