'Ralph Breaks The Internet' Clip: Gal Gadot Chases Down Ralph And Vanellope In Slaughter Race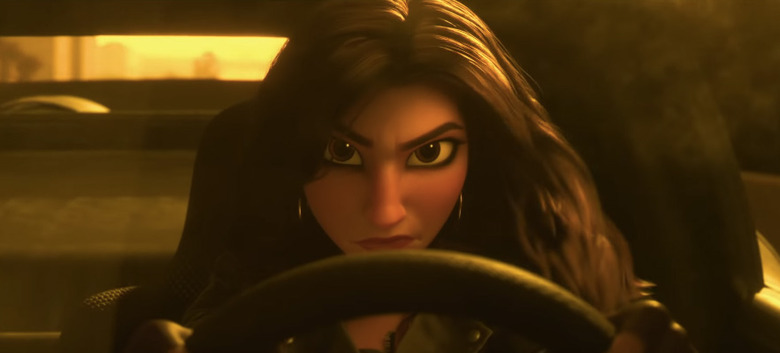 We've still got a little under two weeks until all the big Thanksgiving releases hit the big screen in time to pull families into theaters after stuffing themselves full of turkey and whatnot, but Disney isn't holding back anything when it comes to making sure everyone knows their Wreck-It Ralph sequel is on the way.
Following the last Ralph Breaks the Internet clip introducing us to the new character Yesss, another clip has been released that shows us Gal Gadot in action as Shank, a street tough racer from the deadly video game Slaughter Race. Apparently Vanellope von Schweetz (Sarah Silverman) and Ralph (John C. Reilly) have taken something from her and she wants it back. So of course, a car chase ensues.
Watch the Ralph Breaks the Internet Clip
It looks like Vanellope von Schweetz is giving Shank more of a run for her money than she anticipated. Plus, it's amazing to see how the animation of Ralph and Vanellope has improved in the six years since the first film hit the big screen. There's so much more refined and intricate detail and the setting of Slaughter Race looks absolutely incredible too.
Of course, this is just one small part of the movie. After all, it's called Ralph Breaks the Internet, and the movie will be spending plenty of time in the world wide web, where all of Disney's brands and some of the most popular sites on the internet (and probably generic versions of some of them) will appear.
And don't forget, this movie also brings together Disney's princesses in one place, including Jodi Benson as Ariel, Paige O'Hara as Belle, Linda Larkin as Jasmine, Irene Bedard as Pocahontas, Ming-Na Wen as Mulan, Anika Noni Rose as Tiana, Mandy Moore as Rapunzel, Kelly Macdonald as Merida, Kristen Bell as Anna, Idina Menzel as Elsa, and Auli?i Cravalho as Moana
Ralph Breaks the Internet" leaves Litwak's video arcade behind, venturing into the uncharted, expansive and thrilling world of the internet—which may or may not survive Ralph's wrecking. Video game bad guy Ralph (voice of John C. Reilly) and fellow misfit Vanellope von Schweetz (voice of Sarah Silverman) must risk it all by traveling to the world wide web in search of a replacement part to save Vanellope's video game, Sugar Rush. In way over their heads, Ralph and Vanellope rely on the citizens of the internet—the netizens—to help navigate their way, including a webite entrepreneur named Yesss (voice of Taraji P. Henson), who is the head algorithm and the heart and soul of trend-making site "BuzzzTube."
Ralph Breaks the Internet hits theaters November 21, 2018.