'Inside Jokes' Trailer: Amazon Doc Series Follows Seven Comedians Trying To Make It Big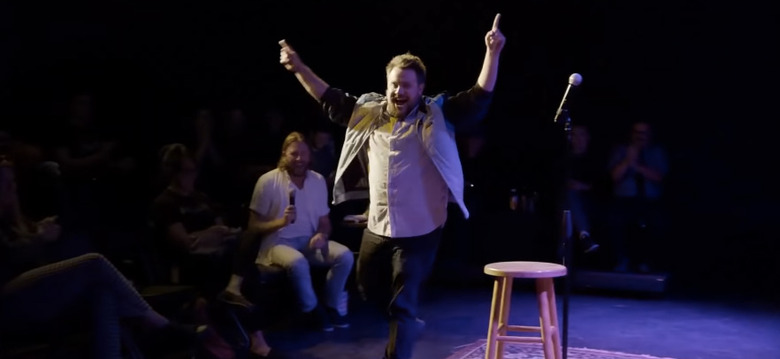 Hollywood is a cutthroat industry with an extremely limited number of roles that far too many people are vying for everyday. That's especially true in the world of stand-up comedy, where you have to make hundreds of people laugh every single day. A new Amazon documentary series called Inside Jokes will follow seven up-and-coming comedians as they do everything that can to land a coveted spot in the New Faces showcase at the famed Just for Laughs comedy festival on Montreal.
Watch the Inside Jokes Trailer
What makes the New Faces showcase at the Just for Laughs festival so special? Well, it's a career-launching pad for comedians who are looking to find a little more fame and success on the comedy scene. Big name comics like Hannibal Buress, Gary Gulman, Pete Holmes, Gabriel Iglesias, Colin Jost and Chelsea Peretti were all once featured on the New Faces panel, and they also appear in the documentary series to add some perspective. Other comedians appearing include Howie Mandel,
As for the new comedians looking to become the next big thing, we've got Rosebud Baker, Robert Dean, Kellen Erskine, Simon Gibson, MK Paulsen, Alzo Slade and Daphnique Springs. The cameras follow them around as they hit up as many comedy clubs as possible, still hold down day jobs and take care of families, and figure out how to keep their acts polished and fresh.
For a comedy nerd, this is the perfect documentary series. And for any aspiring comedians out there, this just goes to show you how much harder the work gets even after you've been on the comedy stage for years. It's not just about getting laughs, but you have to feel like a future star. A comedian's work is never done.
Inside Jokes debuts on Amazon Prime on November 30 for customers in the U.S., U.K., Canada, Australia and New Zealand.
The cameras will be with the select group of talented comics—Rosebud Baker, Robert Dean, Kellen Erskine, Simon Gibson, MK Paulsen, Alzo Slade and Daphnique Springs—as they go through the process of auditioning for the New Faces showcase. Prime members will get unprecedented access into the exhaustive annual nationwide search and what it takes to be chosen for this exclusive showcase. The series will follow the comedians to comedy clubs, to their jobs, and to their homes, as they struggle to hone their acts. And for those select few chosen to be New Faces, as they prepare for a performance that could launch their careers.
Emmy-winning producer Jimmy Fox (United Shades of America) executive produced under his Main Event Media banner in conjunction with All3Media America. Neil Berkeley (Gilbert, Harmontown), Bruce Hills (Funny As Hell, Hilarity for Charity, Craig Ferguson: Tickle Fight), Star Price (Penn & Teller: Bullshit!, Active Shooter: America Under Fire) and Anton Leo (Sunnyside, Tickle Fight, The Confessional) of Just For Laughs Media also executive produced.