'Jurassic World' Is Getting A LEGO Animated Prequel For Some Reason, Watch The Trailer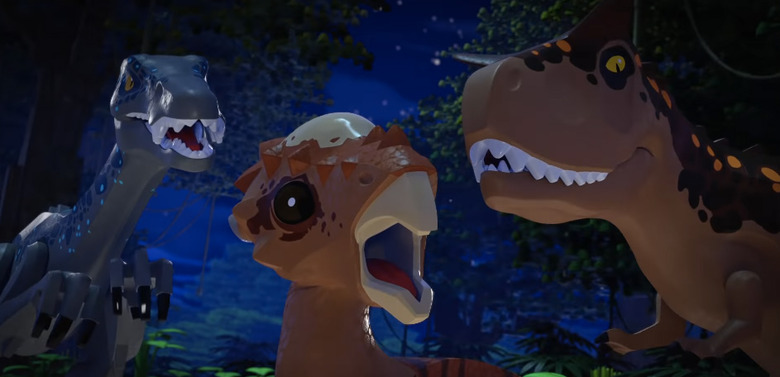 Just in case Jurassic Park and the two sequels that followed weren't enough of a prequel to set the stage for Jurassic World, the folks at Universal and NBC created a Jurassic World prequel in the form of a LEGO animated special airing on TV the week after Thanksgiving.
LEGO Jurassic World: The Secret Exhibit is an animated special that will recount the events that led up to Jurassic World, including giving us some background on the tension between Claire Dearing (Bryce Dallas Howard) and Owen Grady (Chris Pratt), though neither of the stars are voicing their characters. It all sounds...strange. Anyway, check out the LEGO Jurassic World special trailer below.
LEGO Jurassic World Special Trailer
Obviously, this is meant for kids, because of all the goofy slapstick humor. And there's no way this is meant to be canon since it makes absolutely no sense in the "real world" in which Jurassic World is meant to exist. But if you've got any kids who love dinosaurs so much that they want to see LEGO versions of Claire and Owen try to round up some wily dinosaurs, here's the official synopsis for the special:
With the grand opening of Jurassic World's new super-secret dinosaur exhibit just days away, only one thing is missing – the dinosaurs! In order to get the job done, Simon Masrani enlists his newly-hired assistant, Claire Dearing, to ensure the new attraction opens on time...or else. Unfortunately, Owen Grady, the animal behaviorist Claire hired to deliver the dinosaurs, is late. Things aren't looking too good for Claire...or for Owen, who just wants to deliver the dinosaurs, collect his paycheck and get off the island.
But the mission to deliver the dinosaurs turns out to be far more difficult than anyone could have imagined. From a runaway Gyrosphere, hang gliding with a Pteranodon (how did they get out of the Aviary?!), to a high-speed game of chicken with a T-Rex, Owen will earn his paycheck and then some. And Claire may just get promoted to Assistant Manager of Park Operations. Along the way, we get the first inklings of why Owen and Claire drive each other crazy, but despite their differences, they succeed and make a great team. Oh, and Owen meets Blue for the first time as he discovers he has a way with dinosaurs he never knew about!
The two-part LEGO Jurassic World animated special will air on NBC on November 29 at 8pm ET/PT on NBC, and then it will be available on the NBC App, Hulu, and On Demand, followed by a DVD release on January 15, 2019.